Mexican Sergio Perez Fastest on Thursday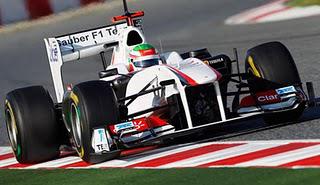 Mexican Sergio Perez Surprises with Fastest Lap on Thursday
In the absence of McLaren Sauber's Sergio Perez was quickest around the Circuit de Catalunya on Thursday with a lap time of 1:21.761. He was by 0.104 seconds quicker than Sebastian Vettel on his fastest lap the day before. Perez is now holding the Barcelona track record throughout winter testing this year, including the tests in February.
Behind Perez the usual suspects materialised in the forms of Felipe Massa (+0.331), Mark Webber (+0.705) and Rubens Barrichello (+0.876), all within one second of Perez.
Michael Schumacher (+1.131), Nick Heidfeld (+1.780), Heikki Kovalainen (+2.229), Vitaly Petrov (+2.472), Adrian Sutil (+2.573) and Jaime Alguersuari (+3.018) completed the top ten. Virgin driver Jerome D'Ambrosio (+5.575) and Jarno Trulli (+12.724) were the slowest cars on track on Thursday.
Remember that the lap times throughout testing, even though giving some indication as to the relative strength of the teams, are not to be taken too seriously, as teams do not communicate the cars' fuel levels, which of the different types of tyres they were using, whether the tyres were new, whether they were using the KERS system, whether they made use of the adjustable rear wing...
Some teams still need to sort out problems with their KERS system. Williams, for instance, did not use the KERS system at all on Thursday because of Maldonado's problems the day before, which made him lose most of the testing.
Friday's testing will be the last time that all major title contenders will be on track together before the season opener in Melbourne.
Thursday's final results:
  Pos. Driver Nat. Team Time Gap
  1 Sergio Perez Mexican Sauber 1:21.761  
  2 Felipe Massa Brazilian Ferrari 1:22.092 +0.331
  3 Mark Webber Australian Red Bull 1:22.466 +0.705
  4 Rubens Barrichello Brazilian Williams 1:22.637 +0.876
  5 Michael Schumacher German Mercedes 1:22.892 +1.131
  6 Nick Heidfeld German Lotus Renault 1:23.541 +1.780
  7 Heikki Kovalainen Finnish Team Lotus 1:23.990 +2.229
  8 Vitaly Petrov Russian Lotus Renault 1:24.233 +2.472
  9 Adrian Sutil German Force India 1:24.334 +2.573
  10 Jaime Alguersuari Spanish Toro Rosso 1:24.779 +3.018
  11 Jerome D'Ambrosio Belgian Virgin 1:27.336 +5.575
  12 Jarno Trulli Italian Team Lotus 1:34.485 +12.724
Tuesday's, Wednesday's and Thursday's combinded results:
Times were set on Thursday, if not stated otherwise.

  Pos. Driver Nat. Team Time Gap Day
  1 Sergio Perez Mexican Sauber 1:21.761    
  2 Sebastian Vettel German Red Bull 1:21.865 +0.104 Wed
  3 Felipe Massa Brazilian Ferrari 1:22.092 +0.331  
  4 Sebastien Buemi Swiss Toro Rosso 1:22.396 +0.635 Wed
  5 Mark Webber Australian Red Bull 1:22.466 +0.705  
  6 Rubens Barrichello Brazilian Williams 1:22.637 +0.876  
  7 Vitaly Petrov Russian Lotus Renault 1:22.670 +0.909 Wed
  8 Lewis Hamilton British McLaren 1:22.888 +1.127 Wed
  9 Michael Schumacher German Mercedes 1:22.892 +1.131  
  10 Jenson Button British McLaren 1:22.910 +1.149 Tue
  11 Nick Heidfeld German Lotus Renault 1:23.541 +1.780  
  12 Heikki Kovalainen Finnish Team Lotus 1:23.990 +2.229  
  13 Paul di Resta Scottish Force India 1:24.334 +2.573 Wed
  14 Adrian Sutil German Force India 1:24.334 +2.573  
  15 Kamui Kobayashi Japanese Sauber 1:24.436 +2.675 Wed
  16 Jaime Alguersuari Spanish Toro Rosso 1:24.779 +3.018  
  17 Davide Valsecchi Italian Team Lotus 1:25.406 +3.645 Tue
  18 Nico Rosberg German Mercedes 1:25.807 +4.046 Wed
  19 Nico H체lkenberg German Force India 1:26.030 +4.269 Tue
  20 Jarno Trulli Italian Team Lotus 1:26.090 +4.329 Wed
  21 Luiz Razia Brazilian Team Lotus 1:26.723 +4.962 Tue
  22 Pastor Maldonado Venezuelan Williams 1:26.989 +5.228 Wed
  23 Jerome D'Ambrosio Belgian Virgin 1:27.336 +5.575