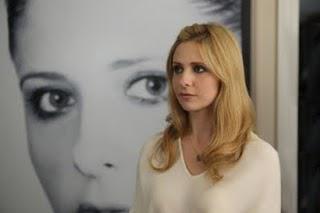 Original Air Date: 13 September 2011

Storyline: Bridget is six months sober and starting to get her life back on track when she becomes the sole witness in a murder trial involving a well-known crime boss. In fear for her life, she escapes from the police and flees to New York, where she reunites with her estranged twin, Siobhan. Wealthy, pampered and seemingly happily married, Siobhan lives what appears to be a fairy tale life. The identical twin sisters seem to be mending their frayed relationship, until Siobhan disappears overboard during a boat trip the two take together and Bridget makes the split decision to take on her sister's identity. She discovers shocking secrets about her sister and her marriage and soon realizes she is no safer as Siobhan than she is as herself.Trivia: The show was green-lit by CBS, who were interested in working with Sarah Michelle Gellar. They failed to pick up to the pilot to a full series citing that it was down to a lack of available spots on the schedule and the serialization of the show not fitting in with CBS's procedural nature. However, the show was immediately picked up by the CW network thereafter.
The pilot was filmed in New York City but subsequent episodes were filmed in Los Angeles.

Best Quote:
Bridget (as Siobhan): I thought we were cool.
Andrew: Cool? What are we twelve?

Review: Ever since the moment the networks have announced the new shows for 2011, Ringer was the one title that stuck with me. I haven't been this thrilled for a new series in a very long time and, as a big Buffyverse fan, nothing excited me more than the return of Sarah Michelle Gellar on TV. My expectations were set very high by all the pre-season promos, that teased what looked like a very entertaining noir thriller revolving around the story of twin sisters with interesting pasts.
There was a lot going on in the pilot, though I wouldn't call it exactly fast paced. The plot centered on Bridget, a former drug addict/stripper whose life takes an unwanted turn when she witnesses a murder and becomes an important piece in the trial against crime lord Bodaway Macawi. Afraid for her life, she doesn't trust the police to protect her, so she decides to take on her twin sister's invitation and go to New York. After what appears to be her sister Siobhan's suicide, Bridget assumes her life, only to discover that it wasn't as idyllic as she had thought - Siobhan's marriage was far from perfect, she had an affair with her best friend's husband and is pregnant with what we can only assume is her lover's baby. The end twist reveals that someone is after Siobhan as well, so Bridget is not as safe as she had imagined.
The one thing you need to know before you start watching is that
Ringer
is not
Buffy the Vampire Slayer
. I wasn't expecting it to be, but a lot of Buffy fans will watch this show waiting for Sarah Michelle Gellar to have a similar role. Neither Bridget, nor Siobhan are anything like the Chosen One. This doesn't mean Gellar is not bad-ass here as well, both her roles are definitely suited for serious action.
The episode didn't start as well as I would have expected. The sequence of events leading to Bridget assuming her twin's life made everything seem rushed. We didn't get a chance to connect with Siobhan, nor were we given the opportunity to see the dynamics between the two. While I understand that, being a pilot, the characters and plot needed to be introduced fast in order to give a feel for what the show is all about, I was left wanting to see more about the twins' relationship.
Once Siobhan exited the scene though, following Bridget as she tried to untangle her sister's life was extremely entertaining and the twists never stopped coming. Despite most of the plot being spoiled in the pre-season teasers, some of the turns - especially Siobhan's pregnancy - caught me by surprise. 
I didn't think Gellar managed to sell both characters - that is, up until the surprising ending. In the first scenes, Bridget and Siobhan had the same air and the only difference was in the wardrobe. I'm not sure if that was the intention, given Bridget's obvious nervousness around her sister and Siobhan's deception, but I hope we actually do get to see two different characters in the episodes to come. I love Sarah and I trust she can pull this off rather well if she puts her mind to it.
The rest of the cast won me over from the very beginning.
Lost
's Nestor Carbonell does a decent role as Victor Machado, the policeman in charge of Bridget's protection. I don't really remember Ioan Gruffudd from
The Fantastic Four
movie, so he was a rather interesting surprise as Andrew Martin, Siobhan's estranged husband. Call me a nuisance, but I do love a man with a British accent. As for Kristoffer Polaha, I vaguely remember seeing him in
Bones
once, but he definitely has my attention now.
Random rant: the boat scene was obviously filmed in front of a green screen and turned me off a little bit. And I thought the gargoyle close-up and Patsy Cline's "I Fall to Pieces" were a nice - if deliberate - tribute to Buffy fans.
I will not call the pilot disappointing, I just think it played very safe, with a first half that was kind of rushed through and a second part that established a solid plot and interesting characters. I will now be waiting to see how it all plays out in the next couple of episodes before making a final decision about this new show.