Sanuk Launches Eco-Friendly SustainaSole

Collection. Sanuk, a division of Deckers Brands, today announced the launch of its latest innovation, the new SustainaSole

collection. Featuring high quality recycled materials and a heavy dose of comfort and durability, SustainaSole is Sanuk's most eco-minded collection to date.
SustainaSole is vegan and offered in two classic Sanuk slip-on styles: the women's Donna, available in Natural, and the men's Chiba, available in Grey. Both styles retail for $65.
One of the major barriers that has prevented the modern footwear industry from creating more eco-friendly shoes is the widely used chemical heavy foam base that offers both comfort and foot support.
To incorporate sustainability while also providing enhanced comfort, Sanuk partnered with BLUMAKA to integrate its recycled foam technology into the SustainaSole line. The new partnership adds to Sanuk's ever-growing list of sustainable material offerings such as Hemp, Jute, Cotton, Linen, Yulex®, recycled polyester, rPET REPREVE and more.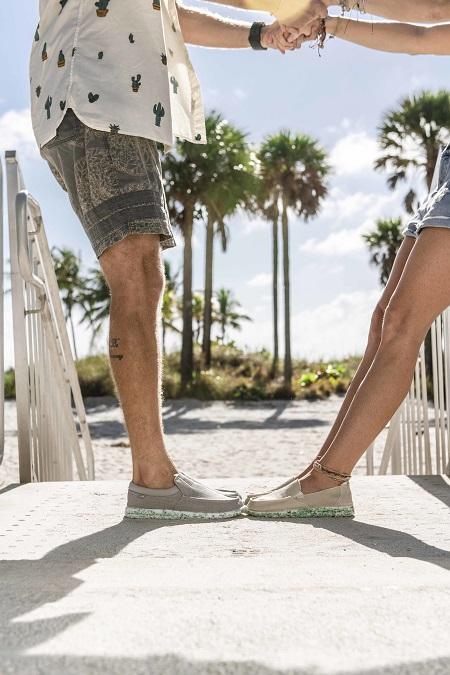 Here is the full list of SustainaSole materials and "shoe-trition" facts:
Upper: 100% Recycled GRS Certified Fibers (65% Recycled Cotton/ 35% Recycled PET).
Upper Lining: 100% Recycled Polyester (GRS certified fiber).
Woven Label: 100% Recycled Polyester (GRS certified fiber).
Sockliner Lining: 100% Recycled Polyester (GRS certified fiber).
Sockliner: Top Layer: 2mm Ortholite Foam made of 5% Recycled Rubber Powder, 15% Recycled PU   Foam & 80% Virgin PU Foam.
Bottom Layer: 3mm Ortholite Foam made of 98% Recycled PU Foam & 2% Virgin PU Foam.
Bottom Unit: Features BLUMAKA's technology, consisting of 35% recycled foam content by weight and 75% recycled foam content by volume.
Non-Recycled materials include: Stitching, Gore, Reinforcements, PU Binding Agent, TPU.
"SustainaSole's mission is to provide a sustainable footwear solution, divert waste and give new life to materials which would otherwise be discarded," said Seth Pulford, Director of Marketing at Sanuk. "We're stoked to design our most eco-friendly shoe to date as a company and introduce a new concept in footwear."
"This is a big step forward in Sanuk's journey to create a more sustainable future," said Erik Ecklund, General Manager at Sanuk. "SustainaSole was made with love for humans that respect our planet as much as we do.
Sanuk Launches Eco-Friendly SustainaSole

Collection
We hope that our customers will come along for the ride as we continue to innovate and attempt to reduce our footprint.