We don't "do" Santa Claus. We don't "do" Elf on the Shelf. I know, I know, I'm taking all the magic out of Christmas and essentially making my son's life a broken misery. Now that we've gotten that out of the way, let's go on to the meat of the issue: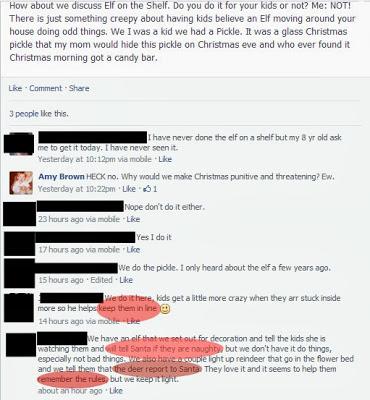 "The Elf on the Shelf® is a special scout elf sent from the North Pole to help Santa Claus manage his naughty and nice lists. When a family adopts an elf and gives it a name, the elf receives its Christmas magic and can fly to the North Pole each night to tell Santa Claus..."
So, basically, he's the tattle-tale for the big guy. Oh goody. As if Santa's whole naughty and nice list weren't manipulative enough, now he needs a helper in his quest to control and manipulate? I think not.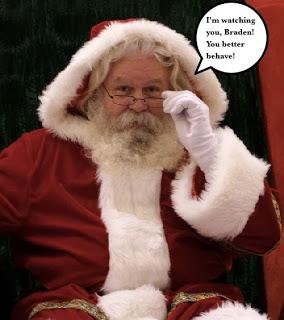 I don't seek to control or manipulate my son at any time of the year, least of all during the Christmas season when we're especially focused on the kindness, generosity, and loved ones. This is one of the myriad reasons we don't lie to him about the existence of Santa Claus. We both grew up with Santa. We both loved him. We both have fond memories of those years. That doesn't mean the jelly-belly wasn't open to scrutiny when working out our parenting ideals. The fact is that Santa Claus is a lie. We can debate all day long about the definition of "lie," but I'm not looking to have a Bill Clinton-esque conversation here. We can further debate the egregiousness of certain lies over others, but to me, someone who values honesty above most else, a lie is a lie is a lie. I never want my son to doubt my veracity, so I'll never lie to him. I make it simple for him to trust me.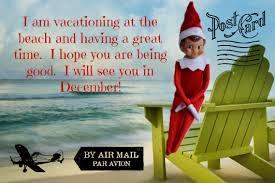 Of course, then, Elf on the Shelf isn't a "thing" in our home. Now, I grew up with them around, but they were mere decoration in my great-aunt's and grandmother's homes - they didn't dabble in shady dealings in the dark, they didn't tattle, they didn't animate at all - they were decorative Christmas decorations only. It wasn't until I was older that I found out about their intended purpose. It was like someone stopped the record. Uh, no. We'll not be doing that with our son.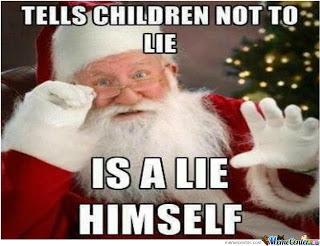 I'm not up for telling him that he has to be "good" or someone or something is going to punish him. I don't do that to him, so why would I let some other fictional folk do it? We know punishments don't work anyway. I don't want my son to obey me or Santa or some elf with a penchant for destruction and mayhem. I want him to do what he needs to do based on his own judgment and self-control. He's a person. He's got this. And when he doesn't "got this," I am there to listen, empathize, help, and hug. I'm not there to say, "Do this or else..." nor are a couple of dudes with sugar addictions and long records of breaking and entering.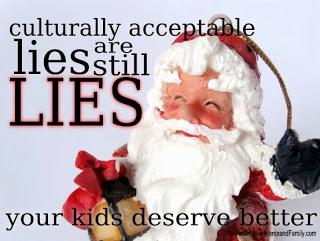 Look, I'm not trying to convince anyone to do things my way. I see why people like the Santa myth. I see why people enjoy the Elf on the Shelf kooky nocturnal antics. I'm simply asking you to consider the bottom line to these, as with all other choices that affect our children.

(for no other reason than this movie flingin'-flangin' cracks me up and I thought we needed levity)