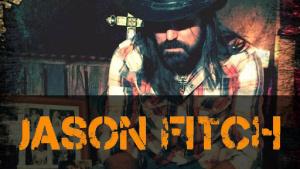 Jason Fitch is a singer/songwriter from Eustis, Florida.  He cites Steve Earle, Townes Van Zandt, Uncle Tupelo, Jason Isbell, Ryan Bingham and Holly Williams as his musical influences.
He took a 10-year break from music, but began playing again after his wife Debi, was diagnosed with stage 4 cancer.  One day she asked him to write a song, and once he started the first song, he found that more songs just came pouring out.  While he cared for his wife in the hospital and at home, he would pick up his guitar and play for her.  Jason says it helped raise Debi's spirits during this time, and for him it was a way to cope with his emotions and escape the reality of what was going on in their lives.
Jason's debut album "Broken Wing" was released on October 16th, 2015. The 14-song album chronicles the emotional roller coaster that Jason and Debi went through while she fought hard and endured several rounds of treatments to conquer her illness.
He says that music is a means of escape.  Writing music helps him cope with different situations in life.  Good or bad.  "I'm a story teller.  I tell a lot stories about my life, what I've gone through, and where I come from.  My songs are inspired by people around me or something that has happened to me at one time or another."
Jason is currently in the studio recording his second album with the same musicians he worked with on "Broken Wing".  He has written all the songs and plays acoustic guitar and mandolin.  His friend and producer, Mike Castonguay, brought in Jake Coco on drums.  Mike played bass, some guitar, and several other instruments.  Mark Goldenberg, who has worked with Willie Nelson and Jackson Browne, is on lead guitar.  Jason credits Mike Castonguay as a fantastic musician and producer and the he could not imagine doing a record without him.
Right now, he is focusing on completing the album and only has a few shows coming up.  But you can see him at the Sanford Music Festival, and find him at www.JasonFitchmusic.com, or Facebook, Twitter and Instagram at JasonFitchMusic.  Check out his music on ITunes, just search for Jason Fitch.