Sandra Bullock hair style Venice Film Festival  and here's how to re-create this hair style at home, straight from the man himself.  "The best thing about a messy topknot is that hair can be on its second or even third day of being unwashed. This gives hair more texture" says David Babaii.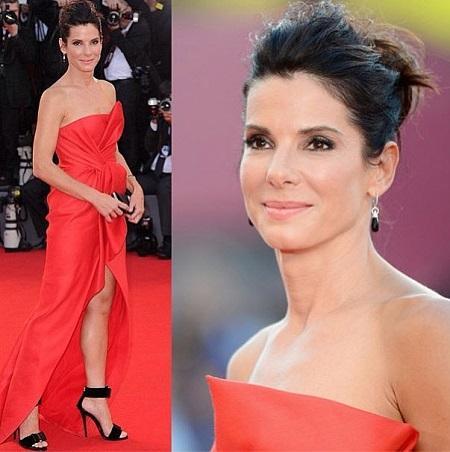 Sandra Bullock hair style Venice Film Festival
Sandra Bullock style
 1.  On dry hair, dust in David Babaii Instant Miracle Hair Volume Powder to the top front and crown areas to give volume and texture.
2.  Using your fingers, bring hair into a pile on the top of your head and secure with an elastic, pulling crown forward slightly with fingers, and smoothing sides.
3.  Wrap hair into a messy bun and secure with bobby pins. Sprinkle David Babaii Instant Miracle Hair Volume Powder and gently massage into roots to give a more texturised look and feel if needed.
4.  Coat with David Babaii Finished Styling Spray for added hold.
"The contrast of volume at the front, and sleek sides gives the look a modern and contemporary feel for you and Sandra Bullock" – David Babaii
THE HOT TIP: "If starting out fresh prep hair using David Babaii Ultimate Volume Shampoo and Conditioner and apply David Babaii Whipped Volume Mousse to damp hair before drying".
David Babaii Philosophy
"After 4 years development, I'm so proud to bring you this collection. It fuses luxury with nature, beauty with science and style with performance. Because there's no room for error on the red carpet, only the best has gone into these products."
David's passion "to make you feel beautiful" transforms into master works of hair artistry and glamour, and has stirred his imagination to create products for you that are infused with this same powerful vision and creativity.
This elite collection has been developed to meet a gap in the market – a range that gives INSTANT gratification but while keeping hair stronger and healthier during its lifetime, enabling it to grow healthier and more lustrous than ever before – WITHOUT damaging sulfates and parabens.
David's celebrity styling expertise combined with advanced cosmetic science has led to the creation of this system, which is set to revolutionise hair care.