Hi everyone,
How is the weather treating you? It is terrible out here in Mumbai. June started on a good note but July is turning out dry, well the humidity has been too high in fact . It  just drizzles and stops. And let me tell you this is the worst thing for skin as my skin has turned into a greasy frying pan.... Lol  Ok so enough of my weather updates if you remember I had spoken about this brand Sand for Soapaholics on my blog before and how I was amazed at their deliciously smelling products. I have a few more products which I will review in the coming days. Today I shall be reviewing a new product of theirs called Mogambo Shaving Cream. Read on to know my thoughts on this.....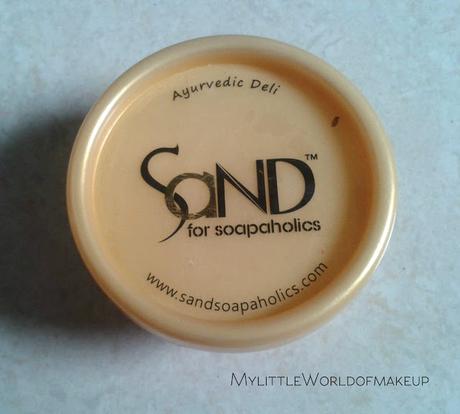 Price: INR 620 per 100gm
Available on their website : 
http://www.sandsoapaholics.com/
Ingredients: Each 10 g contains Linseed Inf. (56.34%), Oil blend of Coconut Seed, Almond Seed, Olive Seed, Neem Leaf, Turmeric Rhizome, Vitamin E /920.29%), Veg. Glycerine (4.69%), Essential Oil blend of Lemon Fruit, Patchouli Leaf, Orange Fruit, Grapefruit (2.63%) , Aloe Vera Gel (2.35%), Rose Flower Wax (2.35%), Honey (1.88%), Xanthan Gum (0.09%)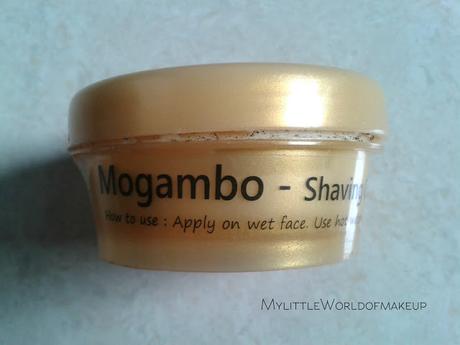 What does the brand say about the product:
Exactly what you need to get the day started right! Mogambo's unique blend of Coconut, Neem, and Turmeric oil has antiseptic and anti-inflammatory properties that help protect your skin, while giving you a smooth, unhindered shaving experience. The addition of Lemon and Orange Essential Oils keep the skin hydrated, while the sweet scent of Patchouli Essential Oil leaves behind a heady aroma. So get ready to hear your face shout 'Mogambo khush hua!' after each shave.
How to use: Apply on wet face. Use hot water on blade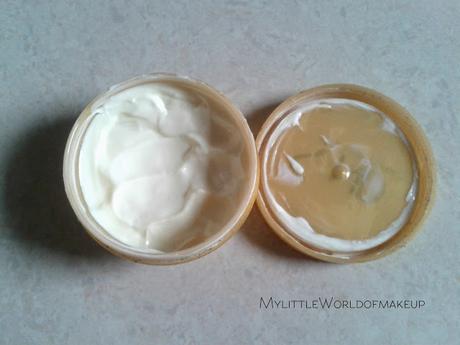 The shaving cream comes in their signature golden brown tub packaging. The ingredients are mentioned on the tub itself. This is new launch by the brand. This tub is small, cute and travel friendly as it is a plastic jar. However I wish they do come up with a tube version in the future. It is more convenient and mess free in my opinion.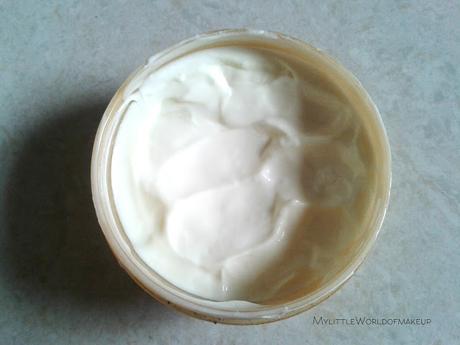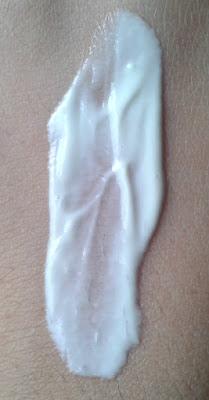 The shaving cream is white in color and smells very much herbal. I am ok with the smell as long as the product is not artificially scented. I do use shaving creams to shave my legs and armpits but never tried a herbal one. Now have you heard of a shaving cream which has Coconut, Neem and Turmeric oil in it? I never did. Lemon and essential Orange oils makes the shaving cream smell nice. Now this cream can be used by men of course but as a woman if you shave your legs and armpits this is an ideal organic shaving cream free from chemicals and parabens. My brother did try it as well and liked it a lot. Overall I cannot point out any fault in it except for the fact that it is a bit pricey but then organic products are as they are free of preservatives, parabens and chemicals.
The Good:
Easily available online
100% organic
Contains goodness of coconut, neem & turmeric
Can be used by men and women.
Gives a good clean shave
Does not itch the skin or cause any reaction
Chemical and paraben free.
Travel friendly packaging
The not so Good:
Pricey
Availability

Tube packaging is more preferrable

Rating: 4.5/5

Mogambo Shaving Cream by SaND for Soapaholics is indeed a unique, natural and 100% chemical free shaving cream which is safe to use and can be used by men and women as well. Their products are wonderful and this is just another one newly launched by them. I recommend you all to check it out.

I hope this review was informative as well as useful to all those reading. Kindly comment below sharing your views and if you have tried any organic shaving cream like this.Until next time.. Happy Shaving :D

P.S: The product was sent by the brand for consideration but this does not affect my honest opinion of the product