70km after leaving Antofagasta we arrived in Baquedano where we spent some time visiting a 'train cemetery'. Once more, due to the arid conditions, metal takes forever to rust, so the result is an army of trains that are in as close to the same condition as when they were decommissioned some 60-80 years ago. It was actually quite entertaining to climb in the trains and explore these old engines in this scene that felt like it was out of a film. On that note actually; it was indeed a location for the James Bond film; 'Quantum of Solace'.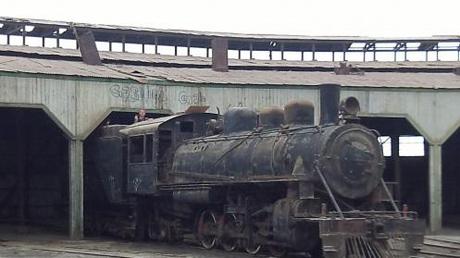 Half an hour later we were back on board the bus, hitting the road and bound for a road made of compacted salt, heading East along the Tropic of Capricorn and after 150km we arrived at the Atacama Salt Flat; the largest of its type in Chile. We stopped frequently to take pictures of various sights in the salt flat; created by huge underground rivers and water courses, and as the water evaporates, it deposits the mineral salt on the ground, forming a variety of shapes and formations; from harsh and very sharp, large crystals, to the hexagonal shapes often associated with a salt flat. We had fun taking pictures of 'infinite perspective' – you'll know these pictures…you can create images that, for example, an apple looks huge compared to a person by placing the apple near to the camera and the person…you send them running.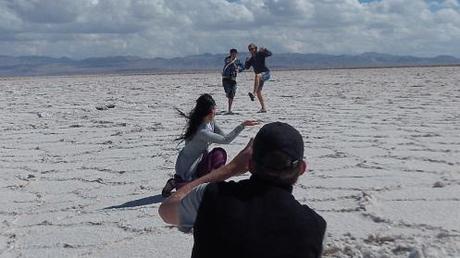 After crossing the salt flat we stopped at the small oasis village of 'Peine'. In all honesty this was a pretty disappointing stop but only due to the weather and something that can't be controlled. The wind was fierce and very cold and had kicked up a sand-storm, so the man-made swimming pools in the village didn't have anywhere near the appeal that they could have done if it was a hot day.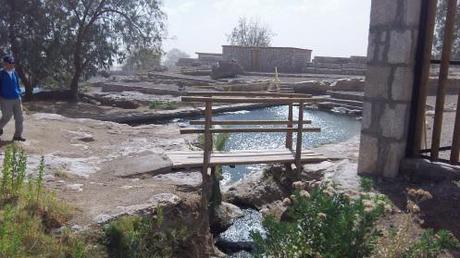 On the road and our next stop was the 'Natural Reserve Los Flamencos'. The reserve was created in 1992 to protect the habitat of the pink flamingos. This was a pleasant stop, despite the wind as there were flamingos close to the path and you could really appreciate the beauty of these animals, and the other bird-life using the lake system to sustain themselves.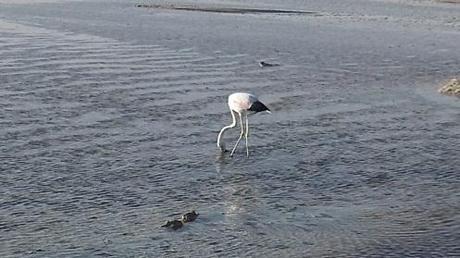 An hour more of driving and we were in San Pedro de Atacama, the archaeological epicentre of Chile. The town is mostly built in adobe and was a trading post and resting area for Indians trading products from the jungle in Bolivia and the inhabitants of the coastal towns. In fact, it was the meeting place, and still is, of many cultures and inhabitants of this area of the world.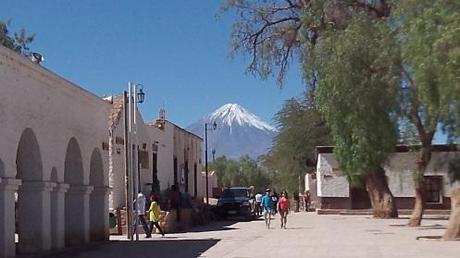 San Pedro was an interesting place, almost as if it is desperately trying to hold on to its cultural history, but the influx of tourists have driven the prices high and is slowly changing the focus, the landscape and the ethos of the town. That evening we had a meal as a group in a restaurant which was fantastic. With the drink flowing we made it back to our hostel and continued the merriments – the highlight, if I can call it that, was being taught how to salsa by Victor…our seriously macho driver! Hey, I'm an open-minded kinda guy! (I was a natural!) With a slightly unsteady walk we all went to bed and with nothing to get up for too early, we were quietly confident of a bit of a lie-in.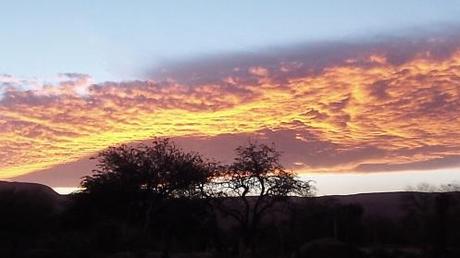 We were right, a lie-in saw very few of us up too early, not early enough to see the 'Tatio Geysers' at least, for that you have to be up and out at around 4am and we were still up socialising not half an hour before then. There are also old ruins that you can go and see and also hot springs. There are numerous tour operators in the town that will hire you bikes and 'sandboards' should you wish to explore any of these places and perhaps sandboard down some sand dunes.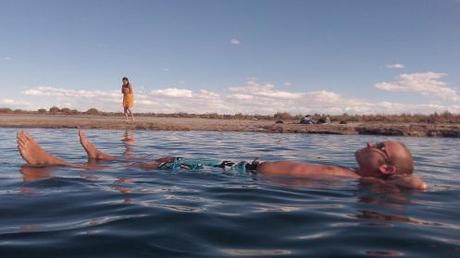 In the afternoon our final excursion with the Pachamama tour was to 'Laguna Cejar', similarly to the dead sea, the salt content is so high that you can do nothing but float in the water. What a truly strange sensation, everything that you are told not to do when learning to swim, otherwise you will sink, you can do…and you will not sink. It is near to physically impossible to swim and further than about a foot deep. Everyone was highly entertained and perplexed by such a feat of natural physics, a visit I would definitely recommend if you find yourself in San Pedro de Atacama.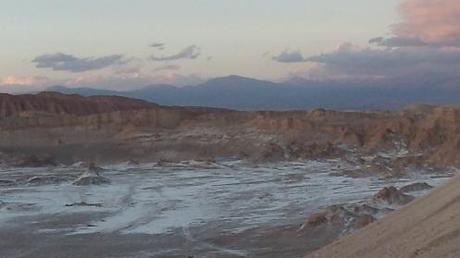 After washing ourselves down, removing as much salt as possible, which you will need to do as the layer that is left on your skin after the water evaporates is shocking, we were off to our final destination with the tour; Moon Valley. The name gives it away really; a truly stunning landscape that has been likened to the surface of the moon and as the sunsets you are granted views of ever-changing colours, shades and moods – what a perfec end to a highly enjoyable tour.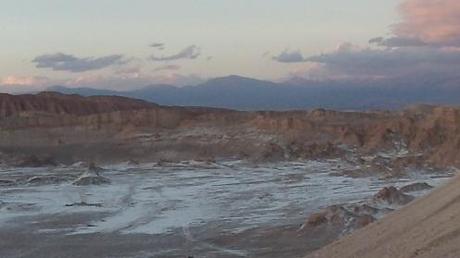 We were going to spend a couple of extra days in San Pedro to look a bit further into what the town had to offer, moving out of the main streets and a little more on the outskirts. The town harbours so fantastic craftsmen and women and the produce they produce is pretty impressive. Talking to some of the locals we found out where some really good restaurants were and enjoyed some great set-menus and for very little money, relatively speaking. Tomorrow we would be booking our ticket for the overnight bus north to Arica.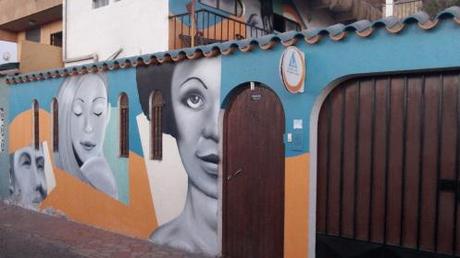 The bus journey was a reminder and a 'welcome back' to the memories of South-East Asia, although in all fairness, the quality of the buses in Chile so far have been much better than those during the start of our trip. It took around about ten hours to reach Chile's northernmost City; Arica, and we arrived at an extremely early hour so we were doubtful that our hostel would be open. However, it was pretty chilly out in the morning air so we flagged a taxi and asked him to take us to 'Hostel Dona Ines' which was about a ten minute taxi drive out of the town. We arrived at the hostel in the small hours and rang the doorbell. It took a couple of attempts before one of the guests, who was getting ready to on a tour, came down and let us in. This place was pretty cool; it had a decent sized courtyard and decorated with character. A pool table, a couple of fusball games, a rather large chopper-style motorcycle, a bar and many photos of the owner plus guests enjoying themselves. I had a feeling that 'Roberto', the man in charge was going to be a rather interesting chap. However, we would have to wait a few hours as we had failed to take into account daylight savings and had actually arrived at around 5:30am, not 6:30am so we were playing the waiting game…not the best conditions to wait in…nothing to do with the hostel, just that the desert gets cold at night and takes a few hours to warm up and the sun wasn't even up yet!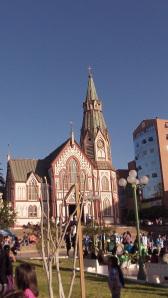 Eventually we were greeted by Roberto, but not after being looked after by the German couple who were there to let us in and give us a few tips on what to do in Arica. Roberto was indeed a character; he had been out the previous night with some of the guests – to look after them – and he spoke good English and was very welcoming. We settled into our room and, well, flaked-out for a while grabbing some well-deserved sleep after our long bus-trip. After a few hours shut-eye we decided that a trip into town was in order to check it out and gain some bearings for the few days we were going to be here. Roberto, being the ever-helpful host gave us detailed instructions of how to get into town, what to pay for the collectivo and what to go and see. The collectivo is a taxi that just continues along the same route all day, picking people up, so it's effectively a shared taxi. It's a slightly cheaper way to get into town, or out of town, or to other areas of Arica and in no time at all we were in town and walking around seeing what Arica has to offer.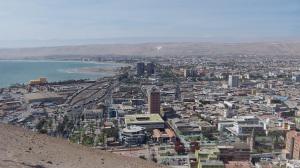 Arica felt like a combination of a large town trying to be modern and a commercially astute town that could be at home in the US and a very obvious offering for the many tourists using Arica (as we were) for a stop-off before crossing the border into Peru. We spent the afternoon walking round the pedestrianized area of the town centre as well as taking advantage of the relatively cheap (and warmer) clothes they had for sale. Roberto had also suggested we take a walk up to the highest point in Arica, a cliff that overlooks the City and the bay as by all accounts is offered amazing panoramic views. We wouldn't have time to take advantage of such views today, but we would have time another day.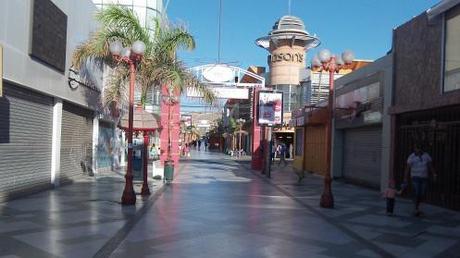 Before venturing back to our temporary home, we heard marching band music near to where we had been walking and decided to venture towards it to see what was going on. In the square, or plaza, were lots of different dance troups and parades seemingly competing against one another. The atmosphere was fantastic, like a rather large party. We got a bite to eat and decided to walk back to the hostel, getting some well needed exercise and one could justify it as a warm-up for the various treks that awaited us in Peru.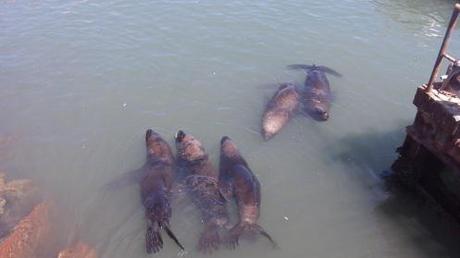 Back at the hostel or new German friends had returned from their trip to Lauca Natitional Park and they had huge smiles on their faces and had nothing but good things to say about the tour, hmmm, suddenly this seemed like a very realistic option for something else to do in Arica. Tomorrow they were going to visit the fish-market, feed the sea lions and walk up the cliff – and we were invited. They had also sewn the seed for us to consider doing the same tour as them the day after and we would book that through one of the many tourist offices in the centre of town.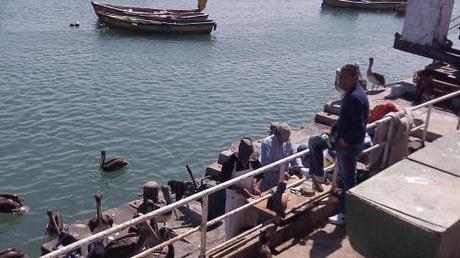 That evening we had a few drinks back at the hostel as Kevin had proposed to Jessica and she had said yes! Awwww, I know, it was actually very sweet and a delight to celebrate with them. It did also make you think of people close to you who you missed dearly…bit of a sentimental moment, but something most definitely associated with travelling.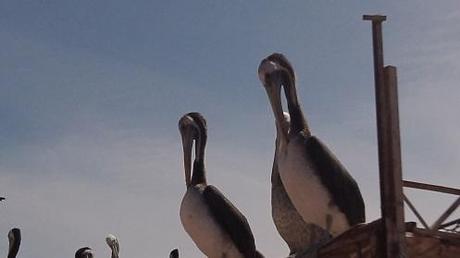 This morning we were up at a decent hour, feeling refreshed and not too hazy with much of a hangover. The breakfast that Roberto provided at the hostel was good and soon saw off any hints of a reminder of the effects of the night before. With food stoked as fuel we were off in a taxi to the harbour where we would be having a look round the fish market to start with. First impression was that it wasn't particularly busy, this fish market, but I was wondering whether that was because most of the produce was sold much earlier in the morning or whether it just wasn't as popular as fish markets once were.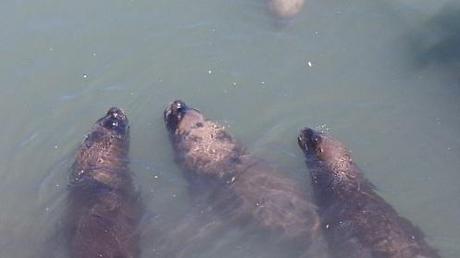 As we ventured further into the compound, the market became less and less interesting as the birds and mammals that were hanging out around the harbour became more and more interesting! Perhaps a rather obvious resident when you consider the tons of fish guts and offal being thrown into the sea are the sea birds such as seagulls, cormorants and a particularly impressive free-loader; hundreds of pelicans. They really are very impressive birds with a prehistoric feel about them, especially as they glide in to perch with that huge wingspan and intimidating beak. It was at this point, as we were leaning over the safety rail that we noticed half-a-dozen rather large objects moving towards in the ocean – they were sea lions. One of our party went to buy some fish to feed them, and ended up being attacked by the pelicans – well, kind of…they were more 'looking wantonly at him with a sense of menace' – again, very intimidating!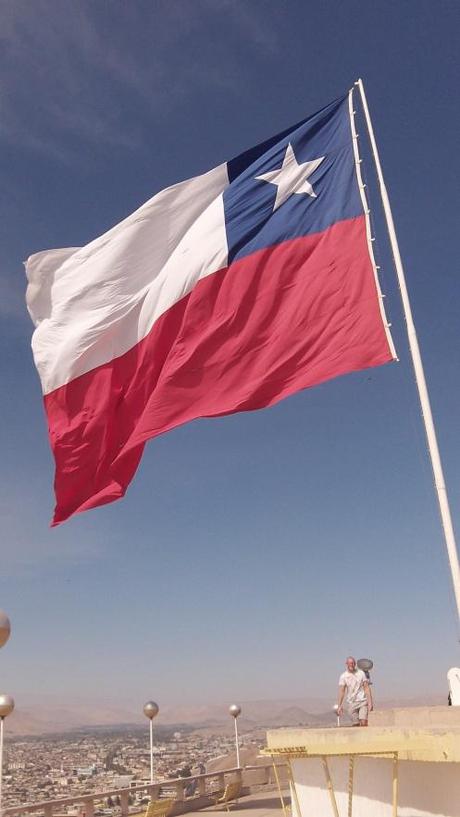 After we had exhausted the supply of fish we headed for the town centre and through the centre on to the cliff. It was somewhat of a steep walk up to the top of this cliff and one thing I can absolutely suggest not wearing to do such a walk is…flip-flops. Still, these trusty rubber-sandals had taken me from the West Coast of Australia, around New Zealand, through the desert and now, they overcame the cliff without any problem at all.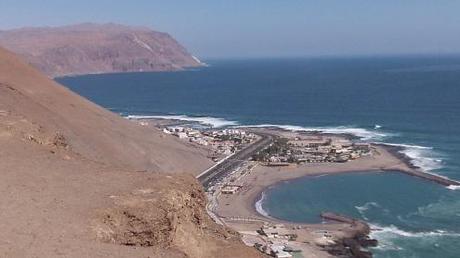 The walk and slight breathlessness was totally worth it though as the view over the city and the port was fantastic. They also had one of the biggest flags flying I had ever seen…proud to be Chilean! After we descended back down to the town we made our way to the street where all the tourism agencies were located and booked on to the day-trip to Lauca National Park whih would be leaving at 1am the next morning.