Today we were up relatively early as Joao and Carol had organised a couple of days in Florianopolis; the capital City of the state of Santa Catarina and according to the UN; the area of Brazil with the highest quality of life, so a relative paradise as indicated by the 42 beaches, surfing reputation, esteemed cuisine and glorious sunshine.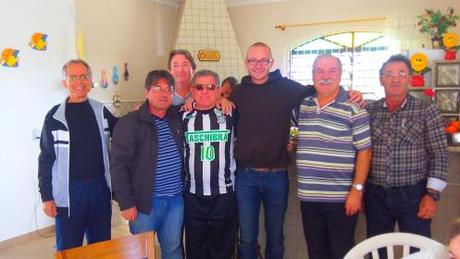 We had heard about Florianopolis, or 'Floripa' not just from our travelling companions; 'Everyday Somewhere' but by many travelers we had met coming in the opposite direction, having visited Brazil earlier on their travels. Everyone we met had pretty much said the same thing; how pretty and delightful the island of Floripa was, so we were looking forward to spending some time here. Knowing that Floripa is an island, we were expecting to board a ferry of some description in order to reach the island, however, after sitting in heavy traffic for a fair while, we were eventually on the motorway bridge (allowing for a fantastic view of the other bridge, the more famous 'Herculio Luz Bridge) that connected the island to the mainland and approaching the shore of Floripa, we could immediately see why it was such a popular destination for tourists.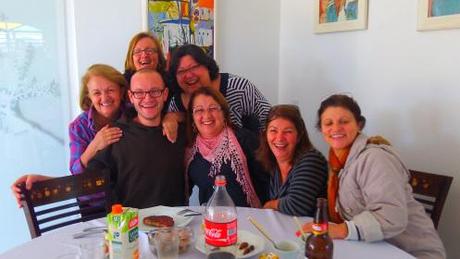 Our first destination was to meet Milene, a friend of Joao and Carol's, and her family for a churrasco at the family home. The house was lovely and we were greeted not just by Milene's immediate family but by most of Florianopolis it seemed as we were effectively joining them for a gathering and planning-party for a trip they were making to Europe! We wondered whether we were actually there to provide some authentic European-gringo culture and to try to field any questions they may have had.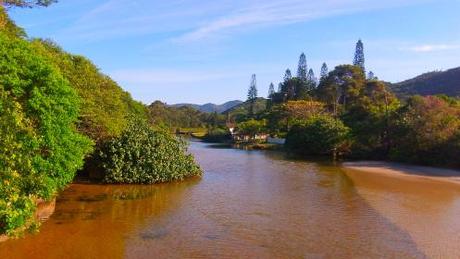 Thank you so much to Carol at this point for being our translator for the more involved and specific questions. Almost the entire group spoke little or no English and with our Portuguese improving, but still only that of a 'tourist-with-effort', communication was a challenge but my word, so much fun! We moved quite quickly into the International language of football as we joined the group of; let's say 'mature guys', to enjoy a cerveja and share many laughs, often the result of the language barrier as we indulged each other with mini-lessons in English and Portuguese. Once again, the welcome they showed us; a complete stranger, was completely endearing, charming and touching.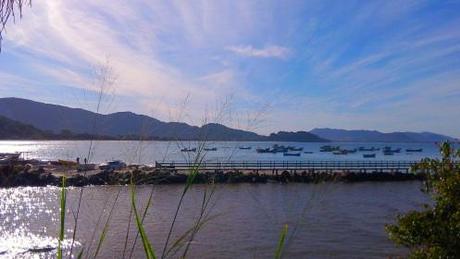 After a few more cervejas (shared bottles of course, and always cold) and a lovely barbecue lunch – actually we would just like to make a note of the genius concept of having a barbecue built-in to a kitchen. This was not the first time we had seen this (and wouldn't be the last) where rather than just have the kind of barbecue we would be used to, sitting outside, the appliance had been incorporated into the kitchen and available as an everyday means of cooking meat; genius – we were off for our first little tour of Floripa.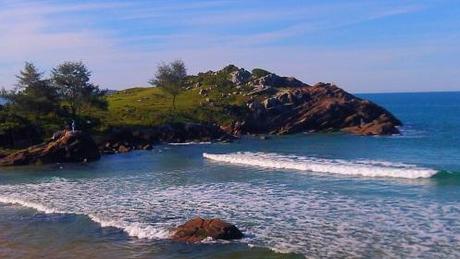 Our first stop took us to a little village where we parked up and headed off for a little walk, picking up a companion along the way; a small dog owned by…who knows! It was a lovely little stroll in the sunshine, crossing over a small inlet river, passing through some undergrowth, a little like a woodland walk, and eventually delivering a stunning view of one of the beaches. What a fantastic start to our personalised tour and already we were seeing and understanding the appeal of Florianopolis as a popular destination with tourists.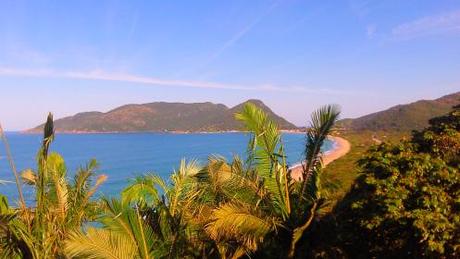 Our next stop was the sand dunes of Floripa, but to get there we would be going via two other points of interest: The first was a vista that was at the top of hill, next to a rather pretty little monastery and offered the most lovely views of the beach and the clear ocean waters, the second was a driving tour of the lagoon of Conceição which could almost be described as a figure-of-eight in appearance. A delightful way to spend the afternoon, taking in the nature of the place, the people and various businesses along the route, and the precession of bicycles that we had to negotiate while they were out riding in protest, or perhaps more accurately; raising awareness for bicycle safety. Eventually we arrived at the area of town which was a little more 'built-up' and had numerous bars and restaurants lining the street with music cascading out of each one and water sports playing on the lagoon opposite.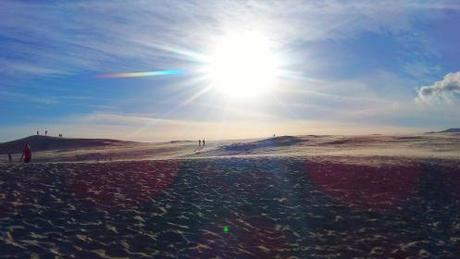 A little further on from the bars and restaurants and we arrived at the sand dunes. The pure white, fine sand made for a stunning backdrop to the many people who were sand-boarding down the banks and as the wind picked up a little, yes, we had to endure a little abrasion against our skin but with the sun going down in the background, the view just improved with each moment. What a gorgeous way to bring our first day in Floripa to an end.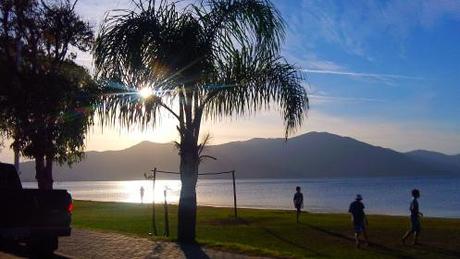 After a hearty breakfast, we were back on the road and heading out to various areas and districts of Florianopolis to explore the beaches around the island. One of the areas we visited was particularly affluent, with pristine roads, lined with pristine trees, huge pristine houses and when we parked up to see the beach; you could see why this was where the rich people frequented – it was pristine!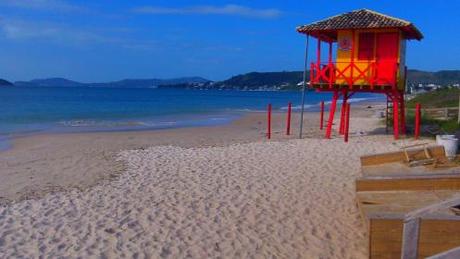 With a few more beaches under our belt we headed for a smaller district which had more of an air of authenticity and culture for a seafood lunch and to sample a few caiprinhas. For those of you who don't already know, caiprinha is the national cocktail of Brazil and is made from cachaça (sugar cane rum), sugar and lime and the ones we sampled at lunch certainly packed a punch. The restaurant we were eating had an interesting welcome as we were greeted by some interesting paper-mache characters including a rather huge with that stood guard at the door. We wish we could elaborate more on this but, forgive us; we can't remember why they were there! (We'll ask around ant let you know!) In combination with delightful company and fantastic food, it was a great way to spend the day.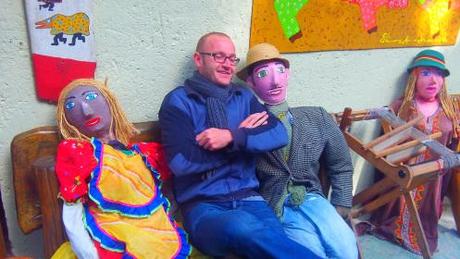 A little more touring in the car, seeing more of the old-town of Florianopolis, and we were heading back to the metropolitan area of the island where we decided to park up and find a café to sample some brigadeiro. We had no input in this decision at all and our growing addiction to this truly amazing 'sweet' was not, repeat, not the reason we were begging Joao to find us a café for coffee and brigadeiro! While we are on the topic of 'parking up', one thing to be aware of in Brazil are the 'self-appointed parking attendants'. We never wish to sound rude, but we are pretty sure that these parking attendants have a very particular background and would assume that they are there more as a deterrent to other such 'self-appointed-parking-attendants' – the recommendation being; pay them for their 'service'.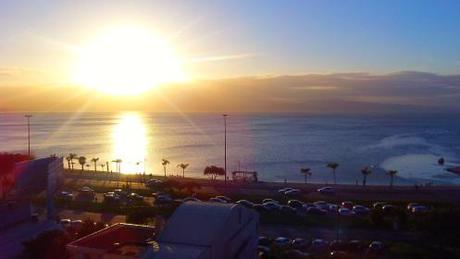 We rounded the day off with a visit to the cinema before heading back to Itajai. We were thankful that the film was in English with Portuguese subtitles, that was until the part of the film where the dialogue was in Spanish and the need for English subtitles at this point was completely redundant, so we may have interpreted the story slightly differently at this point! Still, it was a lovely way to bring our two-day-retreat to Florianopolis to an end and once again, we can't thank Joao, Carol and Milene for their amazing hospitality and fantastic company! We had a couple more days in Itajai before heading to Mariah's Sister, Lela, in Sorocaba.