It was time to say goodbye, or perhaps more hopefully; "see you soon" to Guto, Karina, Francisco and Mariana as we were bound for another new location; Itajai and Balneário Camboriú as well as our new hosts and another instalment of the Silva family, Mariah's Brother; Joao and his partner, Carol.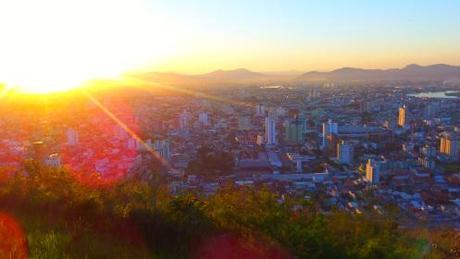 Before we get to Itajai and our next instalment however, we still had to get from Guto's apartment to the bus station and to facilitate this he had very kindly arranged for a driver to take us there. With heartfelt goodbyes, sorry; 'see you soons' in our heart, we were in the car and on the way to the bus station. The main point in mentioning this seemingly trivial information lies in the context of international communication as the driver spoke very little, if any, English, and our Portuguese, although improving day-by-day, was still far off anything even approaching comprehensive. And yet, with no common tongue between us I learned about his family, his work, his life, his football team (obviously) his thoughts on the UK, his ambitions and an array of other information. How true that communication isn't so much in the language but in the things that we don't, or are unable, to say. What a lovely man he was.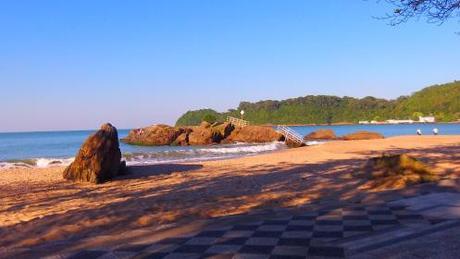 One thing that you can't escape in cosmopolitan areas, no matter where you happen to find yourself in the world, is the possibility and often guarantee of traffic and that rang true on the trip from Curitiba to Itajai, taking longer than expected due to road works and congestion (we felt quite at home at this point). Still, we eventually arrived and were greeted by Joao, who had kindly waited around to pick us up and take us into the town. Our first stop was a little shop called 'Les Marie' where we picked up the owner, who also happened to be Joao's fiancé; Carol, and headed to a bar for some food and drinks.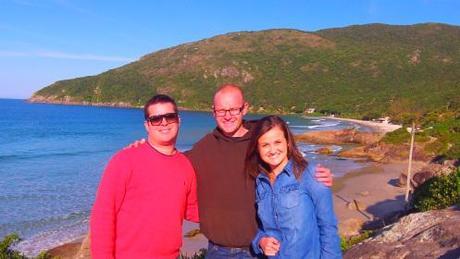 It was a lovely evening learning about Joao and Carol, and finding out some family stories about Joao's little Sister, Mariah (ammunition Miss Silva, ammunition 

 ) The bar that we were taken too was nestled in-between several other pubs and bars along the main road that ran the length of the bay and although we were visiting out-of-season, there was still music being played in most of the bars and a real sense of potential about the place; you could tell that in peak season this would be a vibrant area of town. Joao had ordered several dishes to our table, along with some drinks. We were fast becoming fans in the manner in which Brazilians share their food and drink. We have mentioned this in an earlier post with regards to food, but the drink is also shared so rather than a bottle of beer each, a bottle is shared between several people while the following beverages remain chilled in an ice-bucket. Dear fellow people of England – beer does taste better when it's cold and remains cold from the first sip to the last! These Brazilians are on to something!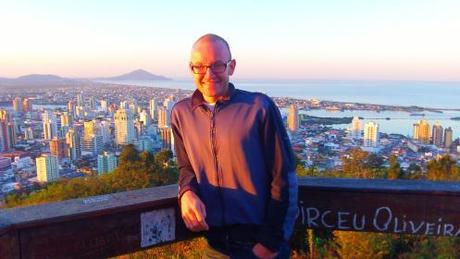 After a lovely evening with Joao and Carol, rounded off nicely with a sample of whiskey from Joao's impressive collection (should be in TripAdvisor) it was time for bed and a well-needed catch-up on sleep before setting off tomorrow lunch-time for a tour of Itajai and its neighbouring twin-town; Balneário Camboriú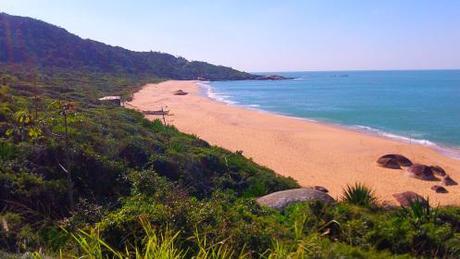 After a morning catching up with this here blog you're reading (or just looking at the pictures) we were picked up by Joao and taken to meet Carol before moving on to another new restaurant and sample another offering of what was fast becoming our favourite food; picanha. However, as we were learning rather quickly, our new friend Joao was certainly a fan of the humorous and as such we were introduced to the restaurant owner as one of the most highly regarded meat experts in Europe. It was a role we actually felt pretty qualified for and had been applying the 'method-acting' technique for some time, mostly by eating meat continually for the past 33 years of our life. We gave the good news to the restaurant that they were being awarded two 'Bisterlinne Stars' – it was a cheap and very delicious lunch.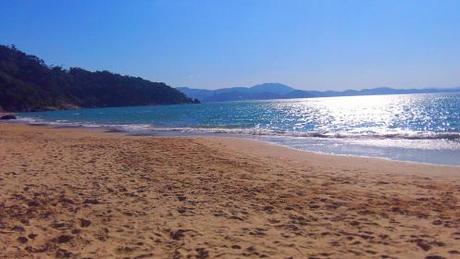 After lunch Joao and I were off to start our little tour of the area (pity you had to workCarol) and our first destination was out of Itajai and into Balneário Camboriú. It was a relatively short drive, perhaps ten kilometers or so and once off the main highway, it was a rather picturesque journey as we negotiated the large hills that plummet in a steep decline to pristine beaches and beautiful views of the ocean. One of the popular things to do in the area is to take the cable-car which joins the beach of Balneário Camboriú with Laranjeiras, which is unique in the world; the only cable-car to join two beaches. However as we were with our own transport and our own very personal tour-guide, we stuck to the more traditional car.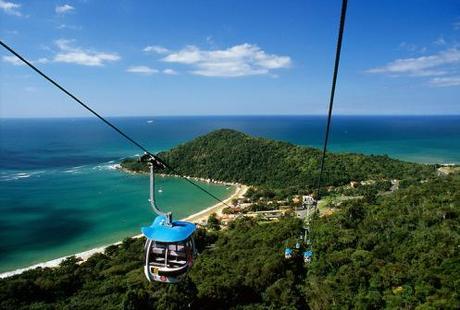 Time for a closer look! We parked up and headed for the beach and a beer (thanks Joao) and although we were there 'off peak' you could still appreciate and understand how, during the summer months, Balneário Camboriú has earned the reputation as the Ibiza of South America as the relatively quiet beach we were sat on becomes one rather huge party. To give you some indication of just how popular this town is during the summer; the population swells from around 90,000 to well over one million people!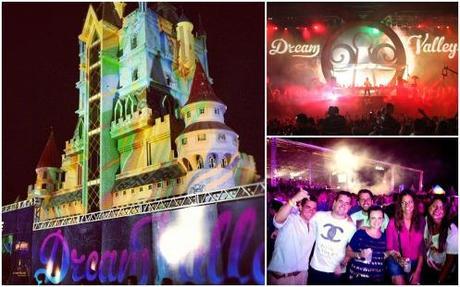 Balneário Camboriú has been cited as the home of electronic music in South America, with three super-clubs attracting party-goers from all over the world and as importantly, Internationally renowned DJ's from all over the world. The newest addition is the Ibiza-born 'Space' nightclub which joins two well-established clubs; Warung club and the Green Valley club, which a Forbes article recently claimed to make up to $1.6 million per night! For more information on the nightclub scene, please click here.
The drive back to Itajai took us through the heart of Balneário Camboriú and we were accompanied by high-rise buildings, the vast majority being apartment blocks and again it provided evidence for just how popular and busy this area of Brazil is during the summer.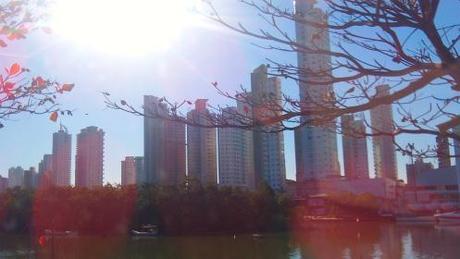 For the evening we were visiting Joao and Carol's friends who had arranged for their Son; Ney, and his band to play some music for us. I think we'll start with the food as it was, quite frankly, amazing. We love Grandmas! It's a statement we're putting out there right from the start and this keeps being proven in truth with each country we visit; this was no difference as we tried to communicate in our broken Portuguese as best we could, but resorting to a cuddle seemed the most understandable of language! The more mature lades of the group had made the most incredible pastels, finger-food and the prettiest looking brigadeiro bites! We should quickly mention the head chef and host of the evening, in his amazing home; Marcelo, who had prepared a traditional dish which had been stewing in a rather large pan and tasted amazing! We'll have to find out the name of that.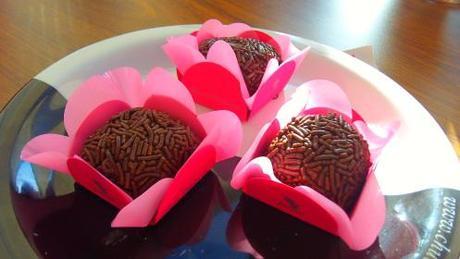 Now to the music! Ney, the Son of Marcelo and Karla, was a young guitarist who had brought along his drummer/percussionist, Carlinhos and a rather well-respected mandolin player called Lenildo Gomes de Almeida. As the guys settled down and began to play we were invited to sit with the band (not play – we didn't want to inflict that on anyone!) while they jammed through some songs. Having been close to live musicians for many years now, we weren't expected to be surprised or overwhelmed (we say that purely due to our career experience) but how wrong were we! This style of samba was smile-inducing and the way the guys communicated musically was totally charming and infectious and humourous at times, plus their musicianship was superb and we sat there for the entire time with a grin upon our face and a foot trying desperately to find the time in which they were playing, which we think was mostly 3/4 …either way, it was so entertaining and such a privilege to be invited to share their music with them and overall, a thoroughly enjoyable evening with fantastic company and once more the reputation of a Brazilian welcome was strengthened even more!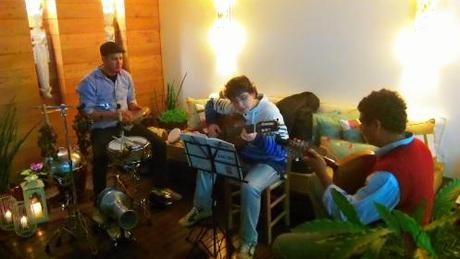 We're afraid at this point we're going to make a little jump into the future as the next experience with Joao and Carol was being taken to the well-known and popular destination of Florianopolis, so that will be a separate post…you guys were so kind doing that Joao and Carol! Mutio obrigado.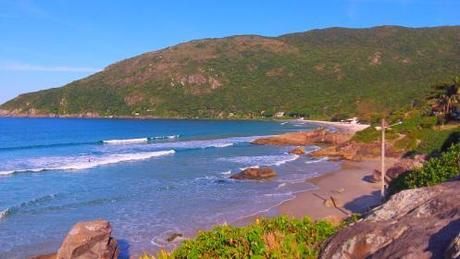 For our final afternoon and evening in Itajai, Joao took us for a walk around the port area of the town and particularly the fish market. This market had such a variety of seafood, and lots of it and more than that; the size of it seemed huge! I swear we had never seen prawns the size of these; if you stuck a saddle on one you could have ridden it! On the subject of food-size – if you're in Brazil; please buy an avocado because quite frankly they are the size of a small melon, we promise you! I think we get a bad deal in the UK. We were shopping, as Joao had arranged to have a churrasco (barbecue) in a friend's apartment block that night, inviting some of their friends, and Mariah's friends, to meet the new gringo.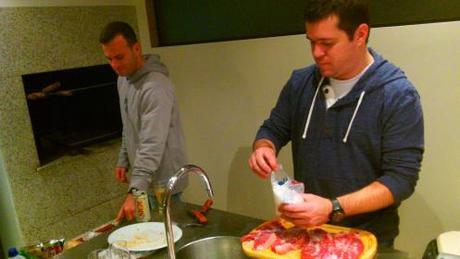 Once more the food was amazing with various meats (including picanha) and also a popular offering in Brazil ; chicken hearts. Being from the UK we were no stranger to offal and the flavour in the chicken hearts was lovely and very moreish! With great food and great company in a great venue – worth mentioning actually that this apartment block, as is true with most of the larger ones in Brazil, had a 'common area' that you can book to entertain your guests as it comes with a barbecue, television and music system; what a fantastic idea and once more shows the social/sharing/welcoming side of Brazilians – we were entertained by the rather talented Junior who sang and played guitar – he knew more 'English classics' then we did! We even managed to include Mariah via the gift of Skype and it was great to see her being able to at least see and speak with her friends and family as they were in the same place at the same time! (Yes, we are an advocate of skype…helps to hold homesickness at bay).
The next morning and it was time to move on once again, this time we were heading for Sorocaba and the home and new welcome of Mariah's Sister; Rafaella. Joao and Carol kindly gave us a lift to the airport where we said our goodbyes. Yet again the hospitality they showed to a relative stranger was overwhelming and so appreciated, as was the hospitality of their friends who probably had no idea who we were! We look forward to returning in the summer one year, with Mariah, to be taken on a tour of the nightclubs – apparently you're a good tour-guide in that department Mariah?! 

 Thank you so very much Joao and Carol for such a lovely experience – it was a privilege to met you and spend time with you.