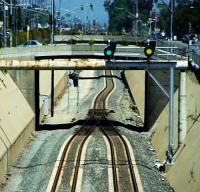 San Gabriel Valley's largest collaborative government body approved a motion on Thursday to allow the Alameda Corridor-East Construction Authority to become its own separate entity.
Created by the San Gabriel Valley Council of Governments in 1998, the ACE Construction Authority now has been given the green light to draft a transfer agreement addressing all related issues to its separation from SGVCOG.
ACE Executive Director Rick Richmond stated in his presentation to the COG governing board that ACE has outgrown its parent organization, having become self-sufficient over its 13 years of doing business.
"We really do not rely upon the COG for any functional activity that we have to perform," he told the board. "We have certain things that must be approved by the COG, and obviously we do that, but we are capable of standing on our own."
Richmond also explained that the proposed separation of the ACE project from the San Gabriel Valley COG would allow both organizations to better focus on their specific missions — both of which are very different. "The COG is really more of a planning and programming agency than a nuts-and-bolts design construction agency, which clearly is what the ACE project is," said Richmond.
According to Richmond, the best option for making ACE an independent entity is to form a joint powers authority, which would include voluntary participation of the cities that either completely encircle or enjoin the construction authority's remaining grade separation projects. These cities include El Monte, Industry, Montebello, Pico Rivera, Pomona, San Gabriel and Walnut.
"In the case of San Gabriel and Walnut, both councils have taken actions to support [the idea]," he said, saying that he perceived similar support, or at least interest, in most the other cities. "So, if I had to characterize it, I would say we certainly haven't gotten anybody to say they're not interested."
Forming a JPA could take nearly 34 weeks and would include further polling of cities, the completion of a project transfer agreement, and establishing substitute working capital financing. Although most at the meeting found the plan agreeable, a few eyebrows were raised over the deadline to provide a suitable draft of the JPA agreement by the COG's next governing board meeting in September.
Duarte Mayor John Fasana said he was conceptually interested in the proposal, "but I'm not sure this is the best time for the COG to be taking this on by September."
Some members voiced a concern that the ACE project separation was too complex an issue for the COG to handle at this time. Immediately before the ACE presentation, the governing board had spent two hours in closed session where they voted to place COG Executive Director Nick Conway on immediate administrative leave.
The governing board's decision came after the recent L.A. County District Attorney investigation into alleged conflicts of interest by Conway, who is a contracted executive director for COG. Investigators with the DA's Public Integrity Division served search warrants at both Conway's home in Pasadena and on the COG offices in Alhambra on Jun. 6.
He has since denied any wrongdoing, stating that he continues to be dogged by allegations of a conflict of interest with his company, Arroyo Associates, which provides staff for SGVCOG. The governing board named Covina City Manager Daryl Parrish as the working CEO.
So with many still reeling from their closed-session ordeal, members decided to take the September deadline out of the motion to move the plan forward. The next SGVCOG governing board meeting is tentatively scheduled for Jul. 19 at a location to be announced.
Representing 31 cities of the San Gabriel Valley, the COG is a joint powers authority that includes three county supervisors and three water agencies. Its purpose is to give the agencies and municipalities of the San Gabriel Valley a greater voice in federal, state and county government.
The ACE project connects the Ports of Los Angeles and Long Beach to the transcontinental rail network, handling 44 percent of the country's containerized imports, 90 percent of California's imports and 75 percent of its exports. It is estimated that the ACE Trade Corridor will distribute an estimated $314 billion worth of trade by the year 2020.