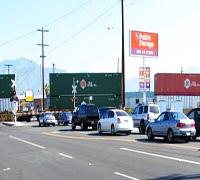 It is hardly surprising that a $500 billion construction project has outgrown its San Gabriel Valley parent organization.
The City of San Gabriel, one of several cities affected by railroad construction under the Alameda Corridor East Construction Authority, approved further study and discussion into separating the ACE project from the San Gabriel Valley Council of Governments.
Although there was agreement to support further study of the separation, explanation for ACE's proposed autonomy remained vague at Tuesday evening's council meeting.
"These are two really big powers, and while they have a common purpose, now ACE has a wholly different path of its own, and it can survive without the COG, and vice versa," said Councilman John Harrington.
Although absent from the meeting, Councilman David Gutierrez, who also serves as the ACE Board Chairman, told San Gabriel City Manager Steven Preston, he hoped "that council would support the motion that would provide (other) cities' approval for a fuller discussion of the issues," according to Preston.
ACE grade separation projects, separating roadways from railroads, fall into the jurisdictions of other local cities, including El Monte, Montebello, Industry, Pico Rivera, Pomona, and Walnut.
Plain and distinct reasons for seceding from the parent organization continued to be assumed at Tuesday's meeting, as ACE Executive Director Rick Richmond simply stated, "There'll be an effort to work with the San Gabriel Valley COG and define the details of how that separation will take place."
However, Richmond briefly outlined the pros and cons of the proposed organizational realignment of the construction authority in a memorandum to SGVCOG on May 24.
According to the memorandum, benefits for ACE leaving COG include allowing the different staffs to focus their own resources on accomplishing their specific missions, as well as removing the perception that ACE is consuming state and federal resources that the COG may otherwise use to benefit its cities.
The most foreseeable drawback, according to the memo, is that increased financing costs may result from "project working capital financing (grant anticipation notes), currently under SGVCOG auspices, (that) would have to be retired earlier than originally planned and new notes issued under new credit terms."
Richmond also outlined in his memo how the best available option for making ACE an independent entity from COG would be to form a joint powers authority, noting that "This is often done where cities have a common interest in pursuing a program or project that spans their respective jurisdictions."
The timeline for forming a JPA could stretch to nearly 34 weeks, assuming there is positive cooperation between all key participants, including the completion of COG amendments and agreement transfers. This timeline does not seem disproportionate to ACE's proposed completion dates for projects in the San Gabriel Valley, the largest of which is the San Gabriel Trench grade separation project estimated to create nearly 9,000 jobs over a four-year construction period.
Potential costs for carrying out the restructuring are expected to be in the $50,000 to $70,000 range, mostly involving legal costs for the preparation and review of key documents, according to the memorandum. And these costs pale in comparison to the overall benefits to come from the authority's largest project, the San Gabriel Trench.
"The benefits that will arrive from that project are going to bring about $450 to $500 billion in construction to San Gabriel," said Preston, adding that the Alameda Corridor East project is the most significant large-scale infrastructure project in Southern California.
The San Gabriel Railroad Trench grade separation project is a 1.4-mile-long, 65-foot-wide, 30-foot-deep, concrete-walled railroad trench that includes the construction of street bridges built at four crossings.
The ACE project connects the Ports of Los Angeles and Long Beach to the transcontinental rail network, handling 44 percent of the country's containerized imports, 90 percent of California's imports and 75 percent of its exports. It is estimated that the ACE Trade Corridor will distribute an estimated $314 billion worth of trade by the year 2020.
The discussion for ACE's separation from SGVCOG, though not necessarily related, comes on the heels of a recent Los Angeles County District Attorney investigation into alleged conflicts of interest by COG Executive Director Nick Conway. Investigators with the DA's Public Integrity Division served search warrants at both Conway's home and on the COG offices in Alhambra on Jun. 6.
Conway, a contracted executive director for COG, has since denied any wrongdoing, stating that he continues to be dogged by allegations of a conflict of interest with his company, Arroyo Associates, which provides staff for SGVCOG.
Representing 31 cities of the San Gabriel Valley, COG is a joint powers authority that includes three county supervisors and three water agencies. Its purpose is to give the agencies and municipalities of the San Gabriel Valley a greater voice in federal, state and county government.