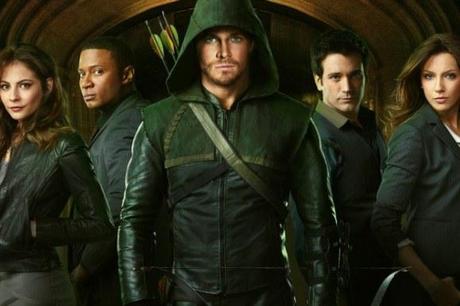 DC Comics' sharpshooter super hero Green Arrow will be getting its own TV series on the CWchannel this Fall.
At Comic Con San Diego's preview night, a screening of the CW's adaptation of DC Comics' Green Arrow pilot episode was shown. The TV series will star Stephen Amell as The Arrow, alter-ego of billionaire Oliver Queen. Executive producers for the upcoming series include Greg Berlanti (Green Lantern), Marc Guggenheim (Green Lantern), Andrew Kreisberg (Fringe) and David Nutter (Smallville).
Synopsis
Billionaire playboy Oliver Queen experienced a violent shipwreck and was presumed dead for five years until he was discovered alive on a remote island somewhere in the Pacific. After returning to his hometown Starling City, those close to Queen start to realize that he was no longer the same person as he was before the shipwreck.
Determined to cleanse the city from all ills, Queen becomes the bow wielding vigilante'Arrow' by night while keeping his alter-ego identity a secret by playing as a wealthy, carefree, irresponsible billionaire by day. Detective Quentin Lance, father to Queen's love interest Laurel Lance, however, is determined to put Arrow behind bars while Queen's mother, Moira, seems to know much more about the shipwreck than she has let on.
Below is a video of the CW's extended trailer of Arrow
The series will premier on the CW on Wednesday, October 10.