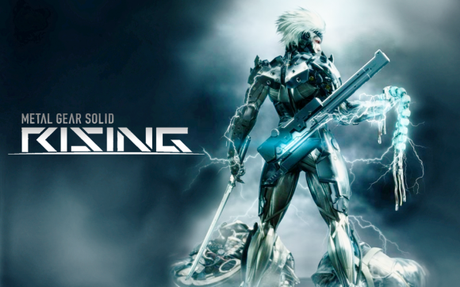 Eat your heart out, Thor, Raiden's the true God of Thunder and Lightning.
Metal Gear Rising: Revengeance, or in Japanese pronounced, Metaru Gia Rajingu: Ribenjensu, will be the latest installment in the Metal Gear universe, expected to release early 2013, starring the cyborg Raiden as first introduced in Metal Gear Solid 4: Guns of the Patriots. As opposed to the regular tagline, Tactical Espionage Action, Rising's tagline is Lightning Bolt Action. Even by the tagline itself, you're immediately aware of the path Konami has taken, which is a more in-your-face fast-paced action-oriented game, and less of the usual Snake's sneaky-from-the-back-choke-em-to-death-or-tranquilizer-dart way. The game was this close from not seeing the light of day. Due to technical and development issues from the team, Konami instead entrusted Platinum Games with the development of the mechanics and overall visual gameplay. You might've played some of their games which include Vanquish and Bayonetta, both released in 2010.
Raiden was infamously known as the whiny, emo-ish inspired hairstyle and womanly appearance in Metal Gear Solid 2: Sons of Liberty. Die hard fans such as myself berate Hideo Kojima for excluding Snake out of the equation and introducing this new kid on the block. He doesn't encapsulate the meaning of manliness, by which I mean scruffy voice, not even a stubble, or as my anonymous friend says "aura of a stud muffin". Ok, I might be going overboard here…but you get the picture. HOWEVER, gone are the days where players didn't think much of Raiden other than a completely forgettable character. Revamped to capture the epitome of manliness, coolness and suave, he is now a certified mofo slicing the sh*t out of anyone in his way. Check out his cyborg body. More of a spin-off than a continuum of the Solid Snake storyline, Konami states that Rising will be an interquelbetween the events of Sons of Liberty and Guns of Patriots. For Metal Gear virgins out there, the franchise might perhaps be one of the most confusing and convoluted stories to grasp. Maybe one day we'll get to do a deep analysis and history of it. For now, check the latest gameplay released a few days  ago. The parallels between Devil May Cry and Bayonetta are visible. The neatest thing of all? The freedom to slice any object or anyone.