Hennessy smartphone in short: dual screen, dual SIM, 5 MP camera and Android OS.
Samsung China officially announced the Hennessy – a flip phone with two screens that runs on Android 4.1 Jelly Bean. Hennessy has a "small" 3.3- inch touch screen 3.3 "and resolution of 320 × 480. The device is powered by a quad-core 1.2 GHz CPU with 1 GB of RAM. Samsung Hennessy is rather thick and heavy, with dimensions of 110.85 x 59.3 x 18.62 mm and weight of 208 g. It has a 1500 mAh battery, microSD card slot and supports two SIM cards,  tri-band GSM and dual-band CDMA.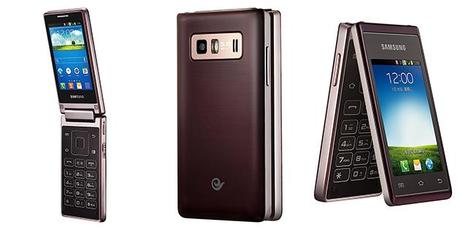 Samsung Hennessy, dual screen flip phone
New elegant device from Samsung on the back has a 5-mega-pixel camera with LED flash. So far the video recording capabilities remain unknown, but we're guessing a minimum of 720 p.  The hardware also supports GPS, Bluetooth and WiFi connectivity. In addition, Hennessy is the second Android flip phone made by Samsung. It will be launched to the Chinese market, but info on a release date, pricing and other market launching are still unfamiliar.