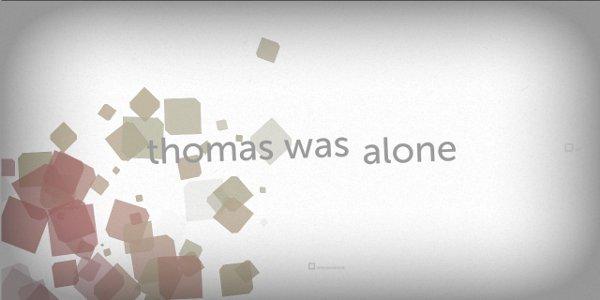 Title: Thomas Was Alone
Format: PC (reviewed), Mac
Release Date:12th Nov
Publisher:Mike Bithell
Developer: Mike Bithell
Price: $9.99
ESRB Rating: E

Thomas Was Alone, then he wasn't. Seems like a simple enough premise, but this puzzle platformer is more than meets the eye, despite it's block colours and square characters. However, what is it about the game that makes it so good?
Story & Graphics:
TWA tells the story of Thomas. It's a hard story to summarise in a short and sweet fashion, but it's mainly a story of friendship, conflict and a brilliant adventure. In a more detailed manner, Thomas is an artificial intelligence given a personality by a bug in a computer mainframe. As the game progresses, more characters join him in attempting to complete the increasingly difficult levels inside the mainframe. As everyone is new to the whole conscious thought stuff, you find that each character ponders their existence and makes amusing assumptions about the world around them. For instance, Claire assumes she is a superhero because she's waterproof.With each new addition having a new personality, each little block becomes a deep individually fleshed out character, my personal favorite is Chris. He's one of the smaller characters, and has one of the smallest jumps, and as such he's suitably grouchy and cynical, his disdain for Thomas at the beginning of the game is made funnier by the fact that he is comvid pletely none the wiser, continuing as if everything is absolutely fine. Graphics in his game are minimalistic to say the least, with nary a curve in sight. It looks like a flash game, which is appropriate as it was born as one. I really like the minimal presentation of the game however, the colours are bright enough that characters stand out from the background, but the backgrounds themselves deserve praise for the way they create depth by using shadows in block colours. Overall these factors merge to make a good looking game, which manages to stand out from the crowd of indie puzzle platformers, as individual as the personalities you play as in the game.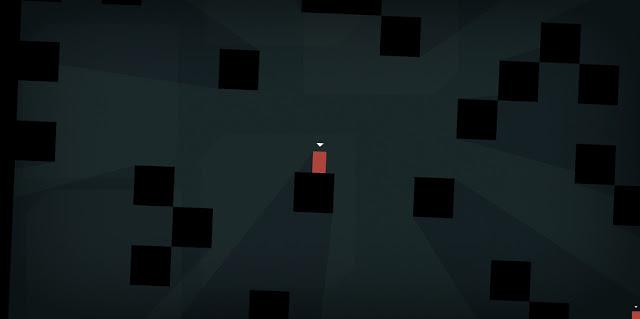 Music:
David Housden's soundtrack (available on Bandcamp) is easy on the ear, it's unobtrusive and calming, with a hint (to me anyway) of children's television soundtracks. A pleasure to listen to, it matches well with the game's laid back style of gameplay.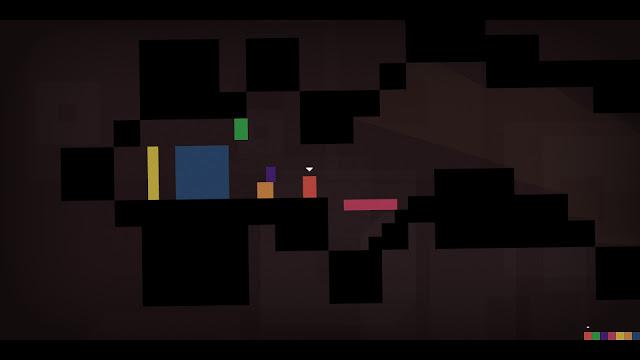 Gameplay:
TWA could have been a fairly simplistic platformer, the goal in each level is for each shape to reach the end of the level and get to their appropriately shaped portal. This is normal platformer fare, nothing special there at all, but TWA likes to play with our familiarity of the genre, the characters constantly question the game mechanics, and they're very good questions indeed. We don't necessarily wonder why there are bottomless pits in the Mushroom Kingdom, or why there are spiky pits in practically every platformer ever, but they're present in this game, and in the context of the game's setting, I can only assume that this means that the programmers are trying to use the obstacles to "kill" the personalities. It's an interesting thought which gets you to look differently at the way games are made. The complexity of the game itself comes from the different abilities of the characters, and the ways that you have to use them to reach the end of the level. Claire (the large blue square) is waterproof, a quality that is invaluable for ferrying the rest of the participants of the level across watery expanses, and Thomas is small and can jump fairly high, but is just the right height for the smaller characters to jump on top of, a vital skill for times where stacking to reach high places is necessary.
Conclusion:
Despite TWA's minimalism and sometimes basic gameplay, it's the storytelling, the soundtrack and way the characters are so relatable which keeps me coming back to this brilliant game. The puzzles are rarely mentally taxing, so getting stuck isn't really a worry, though controlling everyone in unison is something that takes getting used to. The game is available on Steam, Desura, IndieCity or direct from the developer, Mike Bithell.
S&S Rating: 9/10 @PortlyGentleman