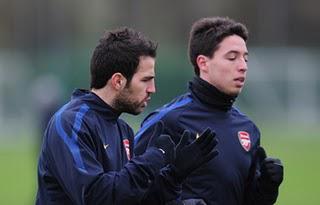 Will these two remain at Arsenal for long?
Samir Nasri surely should be commended for saying he wants to stick around at the Arsenal until he helps them achieve ultimate success. But the fact remains that this pretty much fully represents the extent of modern player loyalty.
With Barcelona manage to keep its side together because the club's success and ability to pay large wages, the big challenge remains for clubs to want to develop talent. Even though they know that a fair amount of the players they turn into stars will leave for new pastures. With the Champions League odds suggesting Arsenal will be perennial contenders in Europe's biggest tournament, you'd think players would hang around, but sadly this doesn't seem to be the case.
It may appear old fashioned in this day and age to hope for more players to follow Gary Neville and Paolo Maldini, and spend their entire career at their club without even a whisper of them moving away to another side. Although the Bosman ruling may have caused the death of this tradition, it is still not ridiculous to hope for players to stay at one club longer than the length of one contract (or in the case of most players not even that long). Although the Arsenal betting suggests the club will always challenge for trophies, that doesn't seem to be enough for players these days.
When a contract length is decided not by how long the club wants a player, but instead how long the player will be happy with the wages the club sign him on before he starts to ask for a move or more money, then you know that there is something hugely wrong. Something is wrong With the way footballers are treating and respecting clubs and fans.
If football is not going to experience the kind of fan disenchantment that occurred in the 1980s, then players need to start looking back at history in order to avoid fans once more switching off from a game that no longer holds any interest for them.