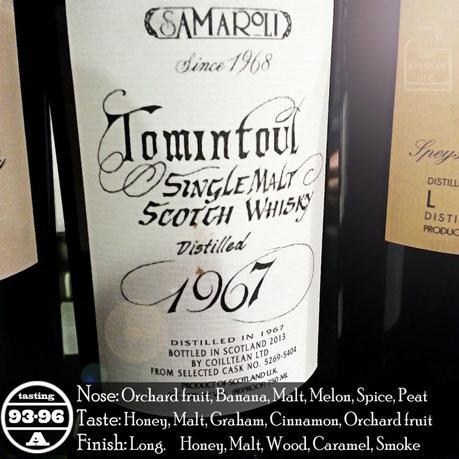 On the whole, Samaroli Tomintoul 1967 is a fairly rare whisky as historically Tomintoul has focused on making whisky for blends and an insignificant amount has made it to single malt market. Like many of these lesser known malts it's only really came to us by way of NDPs like Samaroli who've been buying and bottling casks for many years. However, that's changed in the last decade or so as Tomintoul has put a greater focus on putting out their own bottlings to compete in the growing Single Malt Whisky category.
I've had a couple of NDP Tomintouls in my life, and this Samaroli Tomintoul 1967 was by far the most magnificent. I've read some less than positive things about their young Ballantruan releases and even their 16 year releases, but this appears to be nothing like those. I can't say how it compares to their younger stuff directly, but I can say that this 46 year old Tomintoul is just ridiculously good; especially on the nose!
Samaroli Tomintoul 1967 Info
Region: Speyside, Scotland
Distiller: Tomintoul
Bottler: Samaroli
Mashbill: 100% Malted Barley
Cask: presumed ex-Bourbon
Age: 46 years
ABV: 40%
Price: $500
Samaroli Tomintoul 1967 Review
EYE
Pale Gold
NOSE
There is so much going on it's hard to say that anything is really leading the way, but the core of the nose is a nice orchard fruit (apples, pears and apricots). This is accompanied by some banana, malt and melon with a light spice and a hint of peaty smoke which adds dimension to the whisky. This thing is so complex I could just keep listing note after note here.
TASTE
The palate isn't quite as dynamic as the nose, but it's still rich with notes of honey, malt, graham, cinnamon and orchard fruit. Some light tropical fruit, mild peat and a complex sweetness fills the spaces between the bolder flavors.
BALANCE, BODY & FEEL
Exceptionally well balanced with a full body and silken texture. It's an incredible drinking experience.
FINISH
Rich honey, malt, wood, caramel and smoke play out on a nice long journey.
OVERALL
Fantastic. The Samaroli Tomintoul 1967 is utterly fantastic. This is another whisky I wish I could have gone home with the night of the Samaroli tasting, but the $500 price tag is somewhat (ok, incredibly) cost prohibitive. However, that doesn't diminish the experience.
The Samaroli Tomintoul 1967 was a stunning whisky from first sniff to long winding finish with some of the most complex fruit I've encountered in a whisky. The nose was more robust and complex than the palate, but the palate was no slouch either and brought some additional honied notes to the party. A fantastic whisky all around.
SCORE: 93-96/100 (A, not consumed at home)