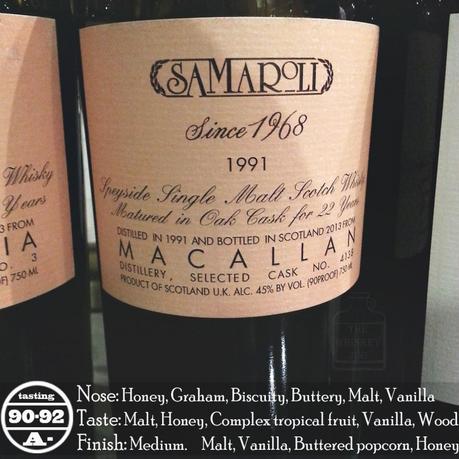 As a general rule Macallan has made good whisky and the Samaroli Macallan 1991 is no exception. Partially because it was a well done whisky and partially because Samaroli has a sterling reputation in the NDP world and so they get to cherry pick casks. In fact, the reason I knew about Samaroli before the tasting where I tried this was from reading about some of the stellar Macallan releases they've put out in the past.
Many of Samaroli's releases come from a single cask, but with this particular release that's not the case. The Samaroli Macallan 1991 is a mix of 2 different casks of Macallan that were both distilled in 1991, a vintage vatting if you will. There is no mention on the bottle or the site of the type of casks they were aged in, but if I were a betting man I'd say ex-bourbon casks.
Samaroli Macallan 1991 Info
Region: Speyside, Scotland
Distiller: The Macallan
Bottler: Samaroli
Mashbill: 100% Malted Barley
Age: 22 Years
ABV: 45%
Non-Chill Filtered | Natural Color
Price: $320
Samaroli Macallan 1991 Review
EYE
Light pear juice
NOSE
Honey… honey for days with some graham, biscuity buttery malt and vanilla dancing alongside of it. A whole pool of swirling dessert notes like caramel, butterscotch and baklava come through in the back with a slight astringency and spice that add dimension and complexity to this lovely dram.
TASTE
Malt coated in honey and drizzled over a complex tropical fruit that's heavy with banana and coconut. It's a warm supple flavor that's accented by notes of vanilla and wood.
BALANCE, BODY & FEEL
The warm rich fruitiness mixed with sweet and spice gives it a nice balance. A light airy body and smooth buttery texture leaves little else to be desired.
FINISH
Malt, vanilla, buttered popcorn flavored Jelly Bellys, honey, graham and pink peppercorn fade out at a medium pace.
OVERALL
Samaroli Macallan 1991 is everything you want a non-sherried Macallan to be with the malt and honey laden tropical fruit notes moving gracefully from nose to finish and a host of background notes adding complexity and dimension.
I'm not going to sugar coat it, there's a lot of great stuff happening in this bottle and if it were cheaper I would have placed an order at the tasting. I now know why some of the Samaroli Macallan casks have become so noteworthy.
SCORE: 90-92/100 (A-, not consumed at home)