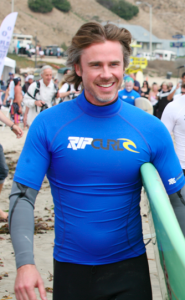 Sam Trammell, everyone's favorite shifter on HBO's True Blood, is scheduled to attend the 2011 Celebrity Expression Session, an annual event hosted by the Surfrider Foundation.  The hour-long free surf session allows fans, surf aficionados, and ocean lovers to witness celebrities riding the waves, all the while raising funds.  Now in its sixth year, the event will be held on Saturday, September 10 from 12 pm – 1 pm at First Point, Surfrider Beach in Malibu.
This year's celebrities will include: our very own Sam Trammell (Sam Merlotte); Jesse Spencer ("House"); Eric Balfour ("Haven"); and Martyn Lenoble (Porno for Pyros).
San Diego-based Cali Bamboo, the premier manufacturer of eco-friendly building materials made mainly from bamboo, is the presenting sponsor.
Truebies, will any of you be attending this sure to be fun event?  Let us know if you make it!
Source: Surfrider.org – Celebrity Expression Session
(Photo: Surfrider Foundation)