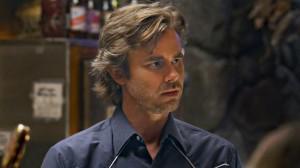 Sam Trammell, the actor who plays bar owner/shifter Sam Merlotte on HBO's True Blood, has contributed to a book about how to make it in the business.  Titled Hire Me, Hollywood!, the book was written by Mark Scherzer and Howard TV's Keith Fenimore.  Published by Adams Media, the book will be available for purchase August 18, 2011.
A description of the book from Amazon.com:
Whether you've always dreamed of yelling "Action" on a major movie set or you'd be thrilled just to get Matthew McConaughey his morning coffee, this book will give you the inside scoop from craft service to the director's chair — and every take in between.
Other contributors include Kevin Clash (voice of Elmo), "ET" co-anchor Mark Steines, and MTV programming executive David Janollari.
What do you think, Truebies?  Would you accept advice from Trammell or Elmo?  As always, let us know in the comment section below.
Sources: Nypost.com – Starr report
Amazon.com – Hire Me, Hollywood!
(Photo credit: HBO, Inc.)