Indian clothing is one of the best known attire across the world. Not only Indians, but many people around the globe always seek to wear latest ethnic designs. In this article, we shall look into Salwar Kameez
A Little About Salwar Kameez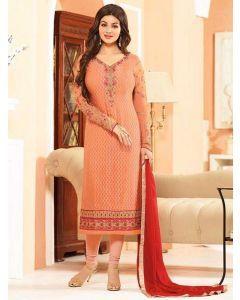 Salwar Kameez is one of the most traditional outfits worn by women in India. It is a combination of trousers and a tunic known as the salwar and Kameez respectively. Most of the people traditionally like to pair the Indian attire with a shawl known as the dupatta. Today, there are a lot of variations that we can find in the traditional Indian Salwar Kameez online. We shall see a few modern versions in the sections that follow.
Types of Salwar Kameez
The following are the various types and varieties of Salwar Kameez that are found today:
Traditional Salwar Kameez
This is the best example of traditional Indian clothing which has a loose salwar and kameez and makes the woman feel free and she is able to perform her household chores efficiently.
Party Wear Salwar Suits
This is one of the traditional wears which is worn by women in occasions such as weddings, house warming, and others. The fabric can range from anything such as silk, net, and others. It is usually of floor length.
Patiala Salwar Kameez
My personal favorite is the patiala style of salwar which really gives a traditional yet elegant look to the woman who is wearing the same. This looks great while also offering a lot of comfort to women wearing the same.
Salwar Kameez with a Jacket
Amongst the latest trends, one manner of wearing the Indian clothing is wearing the attire with a jacket. Often the jacket is such that it matches the Salwaar. You will find varied variety of jackets with authentic and modern designs being born with Salwar Kameez sets.
Salwar Kameez with Skirts
Another one to join the latest trend of adding a modern twist to the traditional Indian clothing is the skirt which has substituted the Salwaar. Skirts are available in different designs, cuts, styles, etc. and they do go a long way in adding a modern touch to your ethnic style.
Floor Length Salwar Kameez
This is inspired by the modern one piece dress in which the salwar itself in not to be seen. These are generally of floor length and are usually paired with a matching dupatta. This type gives the Indian ethnic wear a truly modern twist.
Pakistani Salwar Kameez
Last but not the least is the one that is inspired from the Pakistani suits. You need really good accessories to look pretty in this otherwise traditional style of Salwar Kameez.
Salwar Kameez Online:
Today, there are a number of sites online through which you can order different types of salwar suits. Indian clothes online have been made really accessible through Sareez.com
Thus, as is clear from the above article, Indian traditional salwar Kameez is one of the best known ethnic wears. With a lot of designs and styles to choose from, you can really stand out in the crowd by wearing this piece of Indian clothing.