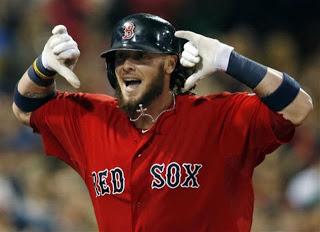 The Magic Number dropped to seven last night, courtesy of Jarrod Saltalamacchia.
Salty broke a 4-4 tie with the Yankees in the 7th inning with a majestic grand slam that landed in the right field bleachers. The Sox went on to an 8-4 win, capped by Koji Uehara extending his "perfect game" to 37 batters with yet another 1-2-3 ninth inning.
Tampa Bay's win in Minnesota kept the Red Sox AL East lead at 8 1/2 games.
The number to eliminate New York from the AL East race is at 4, and if the Sox sweep the Yankees this weekend, they officially only have the Wild Card to play for.
The Red Sox have now won 90 games (the first MLB team to do so this year), and they are 21 games better than they were in 2012. That is one game better than the 1967 turnaround, when the Impossible Dream Red Sox went from 72 to 92 wins. It is the second best turnaround in team history. The best was in 1946, when the Sox went from 71 to 104 wins, an amazing 33 wins.
And speaking of 1946, the last time the Sox won 100 was that pennant-winning season. I think we can talk about whether the Sox can reach that number, as a 10-3 finish in the final 13 games will get them to that number. The most wins the Sox have had since 1946 was in 1978, when they won 99. They last won 98 in the championship year of 2004.