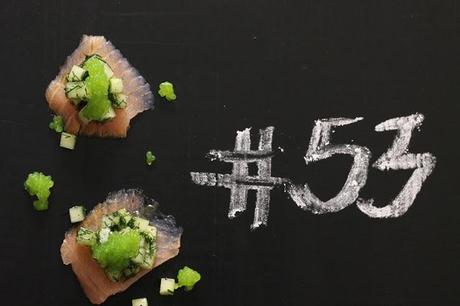 Salmon with cucumber, dill & wasabi pearls
Cold smoked salmon
cucumber
fresh dill
wasabi pearls
olive oil
salt, pepper
Slice the salmon thinly and in bite size pieces, peel and dice the cucumber and combine with finely chopped dill. Season the cucumber with salt  and blackpepper and a few drops of oil.
I found the wasabi pearls at a local grocery store and haven´t seen it anywhere else (yet). So if you can´t find any you can either season the cucumber with a little bit or spread a thin layer on each piece of salmon.
Or if you´re feeling very ambitious you can make some of your own with a little bit of molecular help, if so google for the recipe. For the flavor it won´t make much of a difference but they sure look great.
Finally put some cucumber on top of each salmon and some pearls on top.