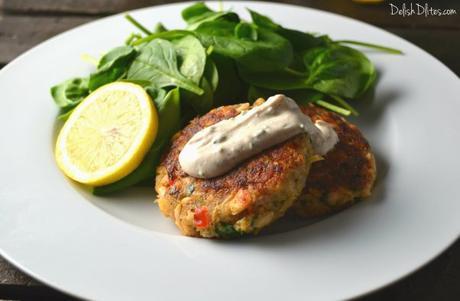 I'm a huge fan of salmon, both for its delicious flavor and health benefits, so I'm always looking for ways to do something creative and keep it from getting monotonous. These salmon cakes are a great way to use up leftover cooked salmon or even canned salmon. Flake up the cooked salmon, mix with some bright veggies, fresh herbs and spices, and you're well on your way to a delicious meal. These salmon cakes are bursting with salmon flavor, and aren't packed with fillers like some other recipes. My tangy, creamy mustard sauce is bursting with fresh flavor, and compliments the salmon perfectly. Salmon cakes are perfect for quick weeknight meals, just freeze the uncooked salmon cakes on a parchment lined baking sheet, then pop into a freezer bag. When you're ready to make them, just saute or bake them for a scrumptious seafood dinner. They reheat wonderfully for lunch the next day, and are perfect with a side salad and some yellow rice, or you can even pop these salmon cakes into a sandwich, crabcake style.

Makes 12 salmon cakes (4-6 servings)
1 pound cooked salmon, flaked
1/2 cup finely diced red onion
1/2 cup finely diced celery
3/4 cup finely diced red bell pepper
1/4 cup fresh parsley, minced
1/2 teaspoon hot sauce (Recommended: Tobasco)
1 teaspoon Worcestershire sauce]
1 tablespoon seafood seasoning (Recommended: Old Bay)
3/4 cup panko breadcrumbs
1/2 cup mayonnaise
4 teaspoons Dijon mustard
zest of 1 lemon
2 eggs
Canola oil, for sauteeing
Creamy Mustard Sauce
1/4 cup mayonnaise
1/4 cup sour cream
2 tbsp Dijon mustard
2 tbsp fresh chives, minced
1/4 teaspoon dried dill
1/2 teaspoon garlic powder
1 teaspoon hot sauce
salt and pepper, to taste

For the creamy mustard sauce, combine all the ingredients, and stir to combine. Chill for 30 minutes to allow the flavors to blend.
Heat a small frying pan on medium heat, then add 2 teaspoons canola oil. Saute the chopped onion, celery and red bell pepper over medium heat, until the veggies are soft but not browned. Remove from the heat and cool to room temperature.
Combine the salmon, cooked veggies, parsley, hot sauce, Worcestershire sauce, seafood seasoning, panko breadcrumbs, mayonnaise, mustard, lemon zest and eggs. Don't break up the salmon too much, you want there to be some small chunks of salmon throughout the mixture.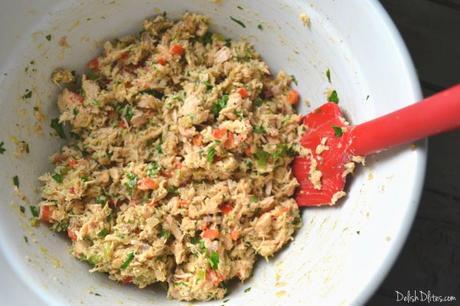 Use a standard ice cream scoop to portion the mixture into 12 equal sized salmon cakes. Use your hands to form these into patties, like you would do when making hamburgers.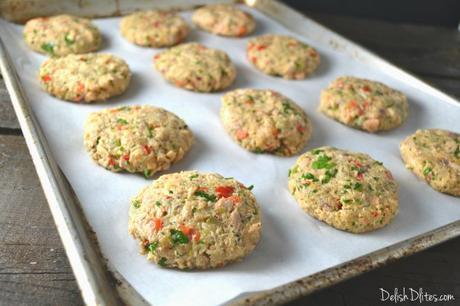 Chill the uncooked salmon cakes in the fridge for 15-20 minutes, so they firm up (or freeze them for later use).
Heat 2 tablespoons of canola oil in a frying pan over medium heat. In batches, saute the salmon cakes for 3-4 minutes per side, or until golden brown on both sides.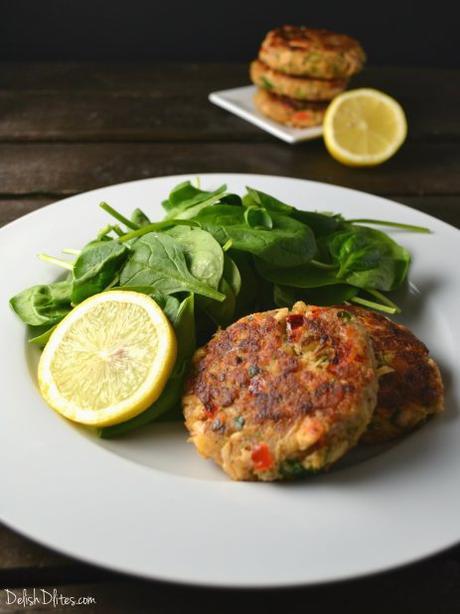 Serve with my creamy mustard dipping sauce.