Hi everyone!!
I have a polish from Sally Hansen's Color Therapy line to share with you today.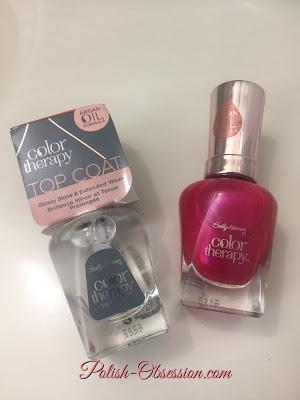 Color Therapy blends a complex of natural argan, acai, and evening primrose oil to condition weak, dry nails. Argan oil contains high levels of unsaturated fatty acids, as well as vitamin E, an antioxidant vital for healthy skin and nails. Acai berry oil is rich in omega-3, 6, and 9 essential fatty acids that are valued for nutrition and conditioning in skin and hair care. Evening primrose oil features essential fatty acids that are known to help reinforce hair strength. 
Here's a look at Rosy Glow.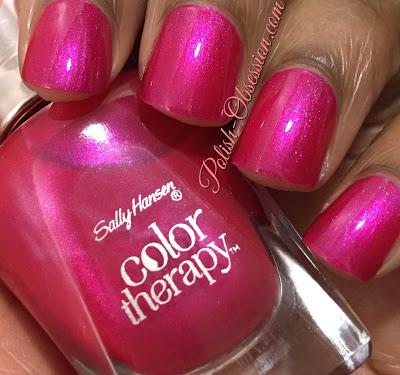 Artificial Light
Rosy Glow is described as a begonia pink.  It's a lovely shimmer with a great formula.  It was opaque in two easy coats.  In the picture above, I topped it off with the Color Therapy top coat.
Of course, I needed to do a fun look with this polish, so here's what I came up with.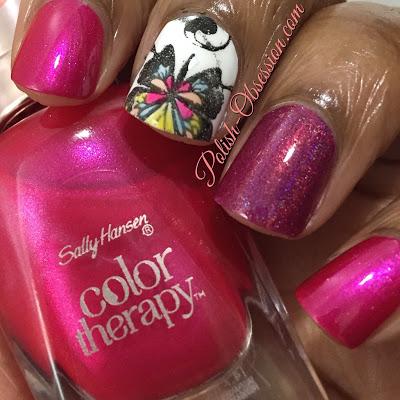 Artificial Light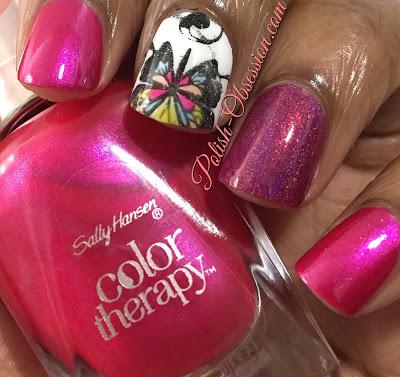 Artificial Light
For this mani, I'm wearing Rosy Glow on my index and pinky fingers.  On my ring finger, I have two coats of Hits Atena Holografico.  On my middle finger, I stamped an image from the BC-11 plate.
I wore the Color Therapy top coat over Rosy Glow once again for this mani.  It didn't dry as quickly as I'm used to with Seche Vite, but I was pleasantly surprised at the dry time.  It also has a lovely shine and I experienced no chipping in two full days.
Rosy Glow is definitely my kind of color and I love the formula of it.  I'm looking forward to trying other colors from this line.
What do you guys think of Rosy Glow?  Have you tried any polishes from this line?
**Sally Hansen Color Therapy polishes sent for honest review**