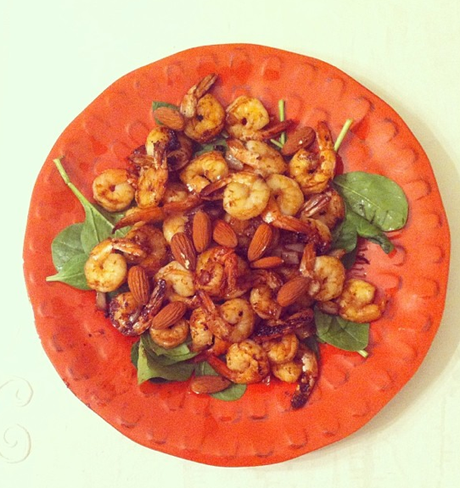 I probably haven't mentioned this before, but I'm the kind of person that has to do things on my own without anyone else suggesting I do something (this is usually about my lifestyle.) Finally I've taken it upon myself to start eating healthier and working out. I'm on my third day of this so wish me luck! I've had a few questions about what is in the salad I put on Instagram last night, so I thought I would share it. And boy...for healthy food...was it good! 
Need: 
-Package of cooked shrimp from grocery store seafood counter
-Fresh baby spinach
-almonds
-garlic powder
-soy sauce
-teriyaki sauce
-craisins
-olive oil
To prepare:
-Put a stir fry pan on medium heat on the stove
-Put about 4 tablespoons of olive oil in the pan
-Add the shrimp
-Add two tablespoons of teriyaki sauce
-Add a table spoon of soy sauce
-Sprinkle in garlic powder as you desire (I put in two teaspoons)
-Add in almonds and craisins
-Cook for two minutes/ until sauce is evaporated
-Serve on a small bed of spinach
Happy healthy eating! If I'm doing it, you can too! 
xo
BCC