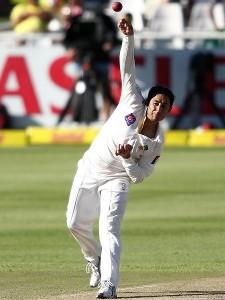 Off-spinner Saeed Ajmal ripped through the South African batting line up to claim five wickets and leave hosts at 139/5 in their 1st innings in 2nd test at Newlands. Protease are still 199 runs behind their opponents 1st innings score of 338. Pakistan started the second test at Newlands in the same horrible fashion like 1st test at wanderers where they could score only 49 in 1st innings and lost the match by a big margin of 211 runs.
In the 1st innings of second test they once again were struggling at 33-4. Another debacle was once again in sight but miraculous innings by Younas Khan (111) and Asad Shafique (111) earned them some respite.  Fast Bowler Tanvir Ahmed (44) and Umer Gul (21) also chipped in to add some valuable runs to the total.
Respectable total of 338 runs gave Pakistani skipper he much needed confidence and he brought in Saeed Ajmal very early in the innings. Decision paid dividend as ball did all sorts of tricks in magical fingers of Saeed Ajmal. South African batsmen were never easy playing against him.
First man to go was skipper Graeme Smith (19) nabbed playing in front of wickets. Fellow opener AN Peterson (17) joined his captain in the dressing room after being caught by Azhar Ali off Saeed Ajmal. Departure of openers brought Hashim Amla and Du Plessis at the crease but Saeed Ajmal was too difficult to handle this evening. Hashim Amla was also trapped LBW with 84 runs on the scoreboard.
Jacquis Kallis and Du Plessis also fell to Saeed Ajmal in quick succession. Second of second test also witnessed excessive use of Decision Review System (DRS). Three out of five decisions came from DRS system.  Skipper Graeme Smith and master blaster Hashim Amla were both given not out by field umpire but they had to walk back because of review.
Jacques Kallis was given out caught at short leg but he opted for a review. TV replays showed that ball did not hit the bat but to his astonishment experienced umpire Billy Bowden gave him LBW. He could not believe and only reluctantly walked back to the pavilion.
At the close of stumps AB de Villiers were not out on 24 accompanied by D Elgar on 11.