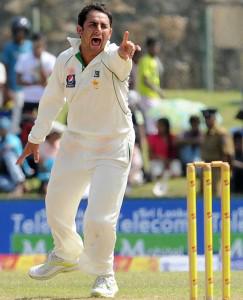 Legendary off-spinner Saeed Ajmal has been named in ICC ODI team of the year. He is already part of ICC test squad. Despite being top performer he failed to inspire ICC awards jury. Initially he was including in list of nominations for three categories in ICC awards. After shortlisting his name was excluded from all three categories.
ICC ODI team of the year mostly consists of Asian players. Apart from Saeed Ajmal, Shahid Afridi has also been named in the squad.
ICC one-day team of the year:
Alastair Cook (England)
Gautam Gambhir (India)
Kumar Sangakkara (Sri Lanka)
Lasith Malinga (Sri Lanka)
Mahendra Singh Dhoni (India, wicketkeeper/captain)
Michael Clarke (Australia)
Morne Morkel (South Africa)
Saeed Ajmal (Pakistan)
Shahid Afridi (Pakistan),
Steven Finn (England)
Virat Kohli (India)
 12th Man – Shane Watson (Australia).