In the rapidly-paced world of capitalistic competition, business is fierce. Stellar employees are poached everyday for groups from their rivals, often with little regard for geographic borders. And talent is rewarded, just look at the amount of zeros involved in scribbling down some CEO salaries. It is more important than ever for the US to remain the world standard in education, so we can continue to lead — and not follow — the world markets.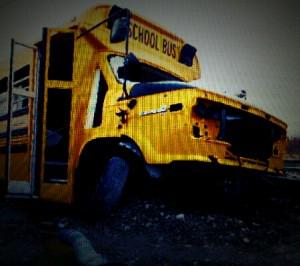 Kids can't learn if they can't get to school!
Why then do Republicans, the self-labelled bastions of liberty and free markets, want to destroy America's education system and reduce our students to mediocre levels? Because education liberalizes. Information is power, experience opens minds, and rational analysis leads to compassion.
Information today spreads at a rate that no one even two decades ago could have foreseen. It is harder than ever to shelter our youth, even if they are home schooled in a post-apocalyptic bomb shelter. There are few cracks that the internet cannot squeeze its way through. Once in, the light it provides continually questions the beliefs of a made-up, illusory system.
Republicans rely on sheltering and ignorance to drive religious, conservative, and hypocritical beliefs into their offspring. They choose what they teach based on what they are most comfortable with, usually disregarding science entirely. They abhor spending time with people who do not feel the same way, or who are different. They keep this grip on their youths until there is no turning back. Then the adult goes out into the world only to do the same thing when he or she has kids.
But this cycle will not continue forever; every society and generation before us has changed in remarkable ways. Information will open the doors that conservative leaders try to close, even as the Republicans fight tirelessly against improving the quality of our public education system. It might be the only way from keeping the Republicans from becoming extinct like the dinosaurs, if you choose to believe they existed.
So when Republican candidates rail against the need to go to college or complain about teacher's unions and school funding, it is because they know that their rhetoric will carry less sway with the coming generations of students who have learned to question what they feel is not right.