If  you read my post about how sparse my eyebrows are, you'd understand how this is probably one of the things that makes me really insecure. I didn't really mind having to take a few minutes drawing my brows on before going out or receiving guests at home, but it was really embarrassing coming out of the water during a recent grand family reunion at the beach. I couldn't look at myself in the pictures.
As if by some cosmic power, I saw this huge billboard of PrettyLooks' coming from the airport on our way back from the reunion. PrettyLooks is an aesthetic center specializing in eyebrow restructuring. Their before and after photos looked pretty impressive.
I had always shied away from having my own body inked, especially after hearing horrible stories about tattoos turning green over time. My Mom had her eyelids tattooed while she worked as a teacher though to save time (I don't know how she endured it but she's always been super strong!). I had entertained the idea a year before when I saw an ad by Browhaus but the cost was a little over Php 38k which was just too much for a tattoo. The PrettyLooks deal is almost half the price though at 15k-18k depending on who does it on you.
I signed up to have mine done in a weekday (as they have no master artists during the weekend). Mine was done by Sue, one of the daughters of the owner. Had I known that her younger sister, Blair, is actually better at it and more experienced, I should have insisted on her.
The reason for the above is that my eyebrows look more like they were regularly tattooed on rather than the S3 Eyebrow Stranding that I paid 15k for. They use micro pigmentation in this procedure in which a pigment is applied on the brow area using a small device with a sharp blade (almost looked like a cutter). The base tattoo was too thick and she had to draw more on my first retouch because the first try didn't really take. She blamed in on my face being acidic/oily. Now my eyebrows aren't even.
If you're having yours done, insist on having the topical anaesthesia stay for at least 30 minutes because it's not as pain-free as they advertise. The pain is fleeting though and you will have gotten over it by the time you leave the clinic. There won't be any swelling although your eyebrows will look really, really dark during the first 3-4 days. I'm not sure if this was common because when I look at their "right after" example photos, they looked really good and so unlike mine.
I wanted to share photos of mine that I took right after the procedure which took about an hour, however, I just found out that they had been deleted from my phone for some reason. This is how it looked like about two weeks later, after it had peeled for about a week. Don't force the peeling, just let it happen by itself.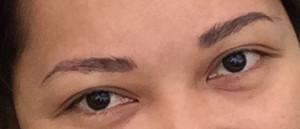 I was already quite satisfied with the results because my brows looked like I had just drawn them in (although not even close to what they had advertised). I was starting to realize that I should have just paid for the regular tattoo because that's what was done on me anyway but I didn't know better at the time. However, my brows weren't even as you can see from the photo above. The right one was too light so I went back for a retouch about three weeks later. The first two retouches within the year are free, by the way, and 1k beyond. Sue did it again on me and I had to undergo a week of peeling and healing again. I was told that I should have waited another week to come back to complete the healing process but they told me that I could come back as early as three weeks later… so anyway!
This is how they look like now, 4 months after the initial procedure. The right side is still lighter so I just pencil some in to make them more even.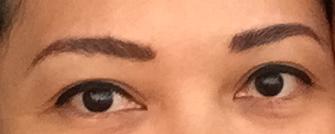 Even if they are not as advertised, I am still really happy that I had them done. There is no comparison to how it feels having actual eyebrows as soon as you wake up in the morning and not having to worry about rushing out the door or having unexpected guests visit and see you looking like an alien (at least that's how I thought I looked!). I am excited to actually go to the beach or swim in the pool already and not have my eyebrows melt on me!
They say that the S3 will last for more than 2 years with some retouch in between if you like. I don't mind the downtime of a few days since I work at home. It's a big confidence boost and can really transform your life, especially if you're like me who isn't good at even drawing on a decent brow!