Shall we continue? Click here if you missed part one.
I rested all those two days until I was well enough to walk to school again. My foster parents did not speak English, which I thought was great so that I could really immerse. It wasn't so great when I first got there though. M. Pagés agreed to walk me to the bank so I can get some local currency and he ran some errands, and we agreed to meet outside the bank. Or so I thought. I waited outside, in the rain. I waited about 30 minutes until I decided to just find my way back. Not sure how I did it but I didn't really get lost; it just took me some time (only an hour) to figure out where to go. I wasn't paying attention when we were walking to the bank earlier. Soaking wet, I was greeted at the door by M. Pagés. It turns out our agreement was to just see each other at home.

Our communication improved as the days went by. I was really forced to speak the language and they were very patient with me. M. Pagés was a local butcher and I loved the sausages he made himself. I adored Mme. Pagés – she was so sweet and motherly, and made the best dinners. She would pair the sausages with béchamel sauce made from cauliflower. The sausages were not links but a really long rope in a spiral and we would just cut off from it what we wanted. I also learned to drink black coffee – the best way to have it! In the mornings, I would go in the kitchen and it would smell of fresh coffee and bread. They would serve the coffee in huge cups like those we see at Central Perk (know FRIENDS?). I had never seen sugar cubes before and I was so delighted to have to put two of those in my steaming cup. And then I would have a slice or two of warm baguette with butter.
They did have a talk with me about my use of hot water though. Mme. Pagés politely asked me one morning how many baths I took in a day. Being the Filipino that I am, I answered two – one in the morning and one at night – and was that wrong? I didn't realize how expensive that was for them. They told me that they were retirees and that the government was only paying them 100 francs a week per foster. I felt really bad about it so I had to resort to taking cold showers in the morning.
My walks on the bridge were getting easier as the weather was getting warmer (as long as I stayed under the sun). I also loved how I regularly bought a kilo of large strawberries for only 10 francs (the euro did not exist at the time) which was only about 70 pesos. And I ate them all by myself!

Toulouse was beautiful. It is called "La Ville Rose" – the Rose/Pink City – because most of the buildings are made of rose/pink-colored bricks. I love that I could associate it with one of my favorite songs "La Vie En Rose" – although when translated it means looking at life through rose-colored glasses.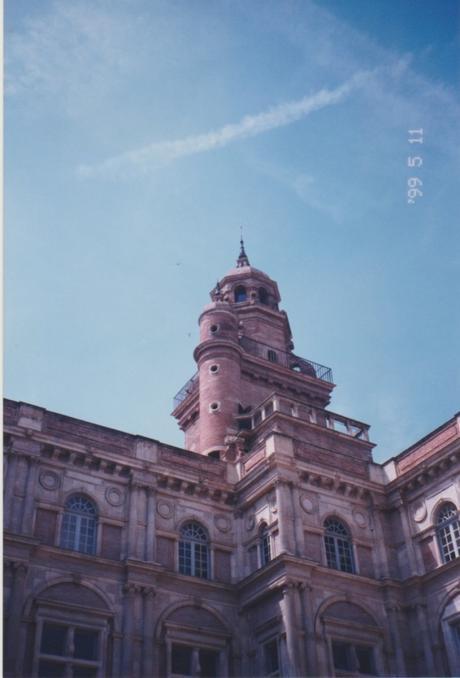 A shining example of renaissance art in Toulouse. Built in 1555 and owned by Pierre d'Assézat, a rich wood merchant at the time.
Toulouse is located in the south, Midi-Pyrénées, and it is at the border separating it from France by the Pyrenees Mountains. Because of this, they speak French but the accent is almost Spanish. Like "bien" would be pronounced Spanish – bee-ehn – rather than French – bi-ahn.
The roads were really narrow. Unlike here in Pinas where the streets are packed with SUVs, all the cars in Toulouse were compact cars.
Class was very interesting. We were as diverse as it could get. We were mixed with the Japanese and Germans, and I think a couple from South America. Can't recall which country. They were amazed to hear that we have skyscrapers here in our country when all the while they thought that we lived in trees.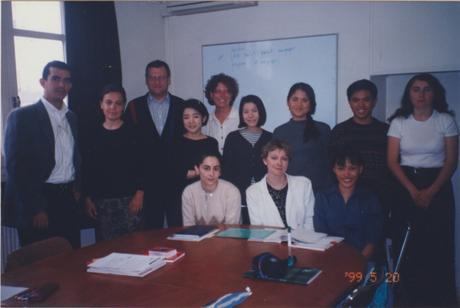 Our class. That's our teacher in the white coat.
I was carrying my sister's LV backpack and it caught my French teacher's eye. She asked me if she could have it. I smiled and politely declined, explaining that it was borrowed. I didn't realize what that bag's value was then. Later when I asked my sister, I wished I hadn't used it. It did paint an amusing picture in my head though – people living like monkeys carrying their food in an LV bag. LOL!
To be continued…