09/14/2011 – by Cynthia Wright
A South African woman who had been missing for a year was finally found last Friday. Nontsikelelo Tyatyeka, a 21-year-old lesbian was discovered when the police (after receiving a tip-off) found Tyatyeka's decompsing body in a rubbish bin behind a neighboring house at Qumbu Street, Mau-Mau, Nyanga.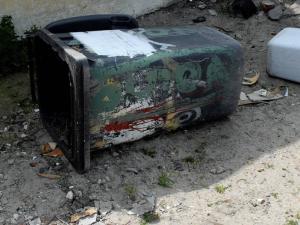 Courtesy of IOL News
Adding insult to injury, the neighboring house belonged to the man who some believed was the primary suspect. This suspect – a friend of Tyatyeka – even asked the victim's mom if they had any leads on her whereabouts. The 29-year-old suspect's house is located right behind the victims.
Things soon came together, when a friend of the suspect let it slip to the victim's brother that he knew where her body was.
Excerpted from IOL News:
The victim's mom Nombasa Tyatyeka, 50, says her daughter was found after a friend of the suspect let slip that he knew where her body was.

"In August, my nephew was listening to a song written for Ntsiki's return and when this man heard it he told my nephew the suspect tried to sleep with her and when she refused because she's a tomboy, he stabbed her," says Nombasa.

She says the man claimed she was wrapped in a blanket and stuffed under a bed before being put in a bin.

Last week Friday, the police followed the lead and found Nontsikelelo's decomposed body in a wheelie bin metres from her home.
The murder suspect was quickly arrested and charged with murder.