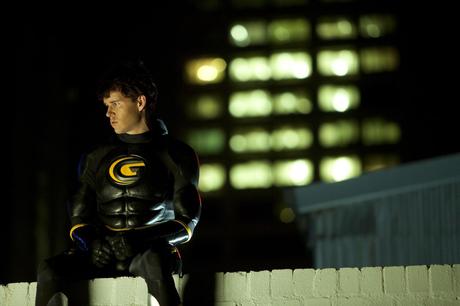 On Tuesday November 15th, Ryan Kwanten's new film Griff the Invisible will finally be available on DVD and Blu-ray.  This limited release is an off-beat indie comedy starring our favorite Bon Temps deputy as the title character.  Kwanten steps away from his role as True Blood's often shirtless Jason Stackhouse to play a man that lacks the confidence and sexy swagger that we are so used to seeing from him. A bored office worker by day, Griff is a man who spends most of his time and energy living in a fantasy world in which he spends his nights patrolling the streets as a superhero.
At first glance the plot sounds strangely reminiscent of previous superhero movies. In reality, what separates this film from the rest of the superhero genre is the charming romantic twist in which Griff ends up needing to be rescued. The story is more an insight into the human condition than it is an action packed adventure film and it gives us a chance to see Kwanten show his range as an actor.
Maeve Dermody co-stars as Melody, a cute daydreamer who is helplessly drawn towards Griff.  Rather than reject Griff for his disconnect from the real world, she embraces his differences.
Pre-order your copy here.
Source: The New York Times Movie Review – Griff the Invisible (2010)
(Photo Credit: Indomina Releasing)