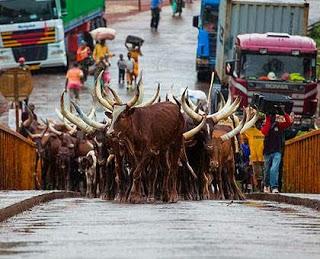 (Rwandans deported from Tanzania crossing into Rwanda with their cattle on 
Sunday, September 8, 2013).
***
Thousands of people claiming to be Congolese refugees poured from Rwanda into North-Kivu Province in massive successive waves that started September 28.
The bulk of these "illegal refugees" are squatting at derelict leprosy hospital facilities in the hamlet of Chengerero, in the M23-controlled Rutshuru territory.
Hundreds of other "returnee families" coming from Rwanda have settled in neighboring hamlet of Kibumba in the neighboring administrative territory of Nyiragongo.
At his weekly presser of Wednesday, October 2, DRC Communications Minister Lambert Mende denounced this strange repatriation of "refugees" without prior notification to the Congolese government and the United Nations High Commissioner for Refugees (UNHCR).
Said Mende:
"We ask the United Nations High Commissioner for Refugees to enlighten us about this event since we've not been informed. It's inconceivable that a movement of return of refugees be undertaken without the prior knowledge of one of the signatories [of the tripartite accord DRC-Rwanda-UNHCR]. Now, the Congolese government wasn't informed."
North-Kivu Governor Julien Paluku saw in the move a nefarious design by Rwanda.
"These so-called refugees that arrived in the area controlled by M23 are none other than troops sent in  to reinforce the ranks of M23 in preparation of their upcoming offensives," Gov. Paluku told the press Thursday, October 3.
But according to the Kinshasa daily Le Potentiel citing local sources in Rutshuru, these self-proclaimed Congolese are actually Rwandans deported from Tanzania in August and September and who've been redirected by the Rwandan government into North-Kivu.
And this isn't the first time Rwanda has literally deported thousands of its own citizens with their cattle into the Congolese territory.
***
PHOTO CREDITS: Photo by Timothy Kisambia via newtimes.co.rw