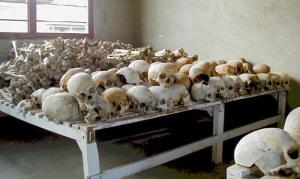 Skulls displayed at The Rwandan Genocide Murambi Memorial
September 2014, the Rwandan president Paul Kagame is in US. It is the UN month and the majority of world leaders pass by the UN headquarters in New York to address their peers and the rest of the world audience on issues they think are worth discussing for the betterment of our humanity. After a few weeks of internal rumbling inside the RPF inner circle and some political clean-up on his part, it is re-branding time.
In October he will join the Global African Investment Summit in London. He will be with the presidents of Uganda, Ghana and Tanzania. I don't have much against investments in Africa. On the contrary. However, I have a lot of concerns when presidents Paul Kagame and Yoweri Museveni, with millions of dead on their shoulders, become the African representatives to a global summit for investments. They might not have a mandate from their peers, or they could be among the few who found important the London platform to attract investments to their countries. The reality appears unfortunate. It portrays again a wrong image of the continent.
On another note, I don't want to speculate on what Paul Kagame might tell his audience in New York. However what I know is about his Rwanda Day to be held in Atlanta during his current US tour. For those not familiar with such events, they are held to address the Rwandan president's complex of unpopularity among his compatriots living abroad. His services forces Rwandan business people inside the country to join him on those events, paying expensive travel expenses and hotel accommodations. Rwandan students abroad who are beneficiaries of the government are also harassed to attend. And the overall cost falls into hundreds of thousands of dollars while population's persistent hunger, homelessness, extreme youth's unemployment, lack of students' loans for the many from hutu families are some of the characteristics of his administration.
While these visits of the Rwandan president are scheduled or already taking place, Rwanda as a whole is experiencing a troubled and uncertain period close in similarities to the 90/94 political climate: 1) more suspicion between hutu and tutsi has arisen, particularly since June 30th, 2013 when all hutu, – even those who were not yet born in 1994 -, were publicly requested to apologize to tutsi for the crime of "genocide"; 2) the case of FDLR, the hutu rebel group based in DRC that nobody knows for sure if it will disarm or not after the given deadline of January 2015, this considered that everybody including US, MONUSCO and Rwanda do not want to hear about any inter-Rwandan dialogue; 3) tens of bodies floating in Rwanda rivers and lakes as probably consequences of the thousands of disappearances reported in recent months in different parts of the country; 4) possible massive trafficking of human organs taken from imprisoned thousands of hutu people who disappear regularly with the RPF purpose of pursuing of the ongoing genocide against their community and reducing their number in the country.
It is in light of this particular last assertion about these disappearances and possible use of the bodies of the victims that I reproduce below a terrifying story initially published by Jane Mugeni in Echos d'Afrique. It is translated from French.
Rwanda . And if the regime officials were engaged in trafficking in human organs ?
September 17, 2014
In recent months , fishermen at Lake Rweru which is between Rwanda and Burundi in its eastern part,  reported seeing several human bodies recovered almost daily. These were mostly fishermen on the Burundian side who dared speak out .

RFI reporters who visited the scene reported testimonies that confirm that the bodies come effectively from Rwanda.

Note that lake Rweru receives water of Akagera whose tributaries are Nyabarongo and Akanyaru which have their sources in Rwanda.

Witnesses speak of bodies often curled and tied then packed in bags before being thrown in the water. Fishermen also claim to have taken in their nets such bags containing human bodies but weighted with stones that prevent them from floating. They conclude that certainly many bodies remain at the bottom of rivers and do not come up on the surface of the Lake .

These grisly discoveries come as the Rwanda mass disappearances have been reported in the country especially in Musanze district where a list of the names of missing persons has been made ​​public by the press and in the District Ngororero precisely lined by Nyabarongo River which empties into Lake Rweru as the Akanyaru .
In Rwanda where authorities have issued instructions not to talk to reporters as explains the dispatch of RFI, a rumor swells : before being thrown into the water , the body would first be stripped of their most sought after organs ( kidneys, livers , hearts , …) to be sold expensively worldwide .

The studious and professional manner in which the bodies are packed in bags, how the authorities handle this case by demanding firmly to the inhabitants of the area around the lake to never report to anyone about it, all this may indicate that the services of the state are involved.

Historical precedents

It would not be the first time a group in power or who militarily conquered territory is devoted to selling the conquered populations as slaves or even selling their organs to the highest bidder. The slave trade of which the history books tell us about was not the fact of the only European who wanted labor for the New World. It was the local authorities who sold their their subjects like any commodity against payment, in the most " legal" way! Closer to home , over the bloodshed that accompanied the breakup of Yugoslavia , the protagonists have sold organs from populations in the conquered areas or acquired with the help of the superpowers. Between 1999 and 2001, then in Kosovo under international administration , a vast network of organ trafficking in Serb prisoners of war was discovered and condemned before the case was covered up as it might have risked implicating some officials in " high places ".
Substitute to the drying Congolese tap?

The looting of the Congo with impunity had used the clique in power in Rwanda to having unlimited funds that it didn't have to justify, which allowed its members to become rich shockingly and taking the world for fools by telling them that Rwanda was experiencing economic miracles in showing off the wealth of the elite from Uganda who squatted Kigali,  while the population was languishing in misery. Now that the looting of the DRC is no more easy, nor as automatic as it was a few years ago , the ruling clique that came from Uganda, desperate to secure its revenues, have recourse to trade in organs of conquered population. It would be immoral and outrageous [for normal human beings] but not from the "boys" from the suburbs of Kampala , Bujumbura , Nairobi, … and who seized the country in 1994. No moral matters to them . They would do anything to get easy money even selling some of the vital organs of its population.

Alarm signal, condemnation or complicit silence ?

The coming days will show us if the so-called " international community" can hear the alarm signals from Rwandans who might be being butchered like animal beasts, and whose organs would be sold to inflate the pockets of a mafia group which rose to power by force.

We also wait to see if those who present themselves as defenders of Human Rights will investigate this situation or if they too will choose to keep a complicit silence over the actions of a regime installed against all logic in Rwanda by super powers that govern this world.
Knowing what I know today about the geopolitics of the Great Lakes region from the end of the 80s, I did not believe in Bill Clinton's apology in 1998 about the Rwandan "genocide." Since the RPF attacking Rwanda in 1990 then taking power in 1994, millions of Rwandans and then Congolese perished. As this article points it out, the killing of Rwandans, in their majority hutu, has never stopped. It is an ongoing reality. Rwandan families deplore almost daily losses due to RPF. They don't need any future apology from any world leader or anyone responsible or supportive for what is happening to them because of Kagame's criminal actions against his compatriots. They only need them to stop him NOW from continuing committing his crimes.
Shame on the personalities around the world who continue hosting the Rwandan president and ignore acknowledging him of what he really is: a serious serial criminal even more dangerous than Adolf Hitler.
About these ads