By Jane Mugeni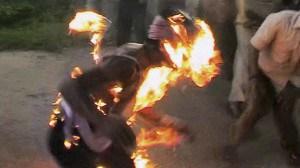 Our correspondent in Kigali, Rwanda tells us that Tuesday, 29, July, a Rwandan student tried to set himself on fire near the roundabout in the Rwandan capital. The interventions were fast so that the victim could be saved in extremis. The police were on the scene and confiscated the pictures taken by journalists.  It also led the student victim, who were severely burnt to the Kigali Central Hospital.
Visitors from all sides rushed to visit the sick and to inquire about the situation. Rwandan security services who did not want nothing to filter about the motives of this immolation, transferred the sick. By the time of writing this note, the victim has been moved to the police hospital of Kacyiru [this is the same hospital back in 2010 where members of FDU-Inkingi who had been beaten by the police had been mistreated instead of receiving medical assistance].
All these measures taken by the security services follow what the victim would have written a letter in which he justifies his action to end despair that many Rwandans experience daily, injustices in all aspects of national life they confront, and famine ravaging villages without the authorities being moved at all by the misery of the peasant population.
This sacrifice is not the first one in Rwanda. Sadiki Mutabazi, a young Rwandan 18, set himself on fire in Rubavu [Gisenyi] in May 2012.
These spectacular acts of despair are only a tip of the iceberg. Despite the official rhetoric that Rwanda is the newly found heaven on earth, there are many in Rwanda who live this humanity quietly, without making a particular statement to the world. People should ask themselves what a government does to its people in terms of policies in place to make them hate living and commit suicide.