Is Kohlrabi a turnip or cabbage? If we understand, it is a German turnip of the cabbage family. If this understanding is wrong please correct us. You will love this unique taste as Russian Chef Oxana Perkova has captured a most simple preparation that explodes on the taste buds!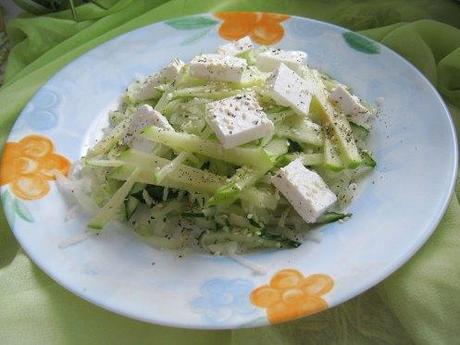 (photo: Oxana Perkova)
This looks complex but is amazingly simple and can be done quickly. Almost too few calories to count so it is great for heart, diabetic and other diets. Kohlrabi can be cooked but is delicious raw as it is here: Kohlrabi grated. Green apple and cucumber cut into strips. A few goat or other cheese cubes for flavor and presentation. Dressing: olive. oil, lime juice, Italian herbs. Sprinkle on a few sesame seeds and enjoy!
Today's edition of the Mendeleyev Journal was brought to you by Moscow Pass, the cool way to save on transportation, museums, tours and more! Just click for more information.