Continuing with the 2013 year of the snake theme, we offer this tasty and decorative salad idea for the New Year celebration. This is a "potato snake" creation.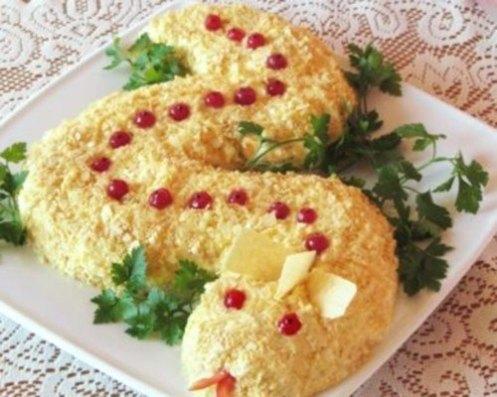 (photo: http://ovkuse.ru/id/24770/)
Ingredients:
500 grams of mushrooms
400 grams of chicken
300 grams mashed potatoes
100-150 grams cheese
80-100 grams cheese crisps
3 onions
mayonnaise
cranberry / red currant
greens
slice of tomato / red pepper / potato chips
butter
vegetable oil
Preparation:
Prepare mashed potatoes but don't whip them fine, let it cool, put on a platter in the form of a snake.
Onions should be finely chopped, marinated with lemon juice or vinegar and just a dash of sugar, and then add a layer of potatoes spread with mayonnaise.
Fry the sliced ​​mushrooms in a pan with onion and vegetable oil, also adding a little butter; allow to cool, add the next layer, spread with mayonnaise.
Boil the chicken breast until done, cool, cut into small pieces, add a new layer, spread with mayonnaise.
Cheese rub, add the next layer, spread with mayonnaise, gently smudge.
Chips canbe crumbled and then sprinkled over the salad, make an outer "skin." Use larger chips to make the eyes and ten decorate with currants or berries.