Having just celebrated the 20th anniversary of the constitution earlier this month, we remain curious as to when and if the constitution will be changed in light of the government's intention to move out of the socialized health care business by the year 2025? It is a question we've posed of the President, the Prime Minister and members of the Duma.
This topic has been a topic non-starter leading up to the constitution's anniversary so perhaps now that this milestone has passed, someone will be willing to address the question other than simply pointing to piecemeal changes in the law or to published budget priorities.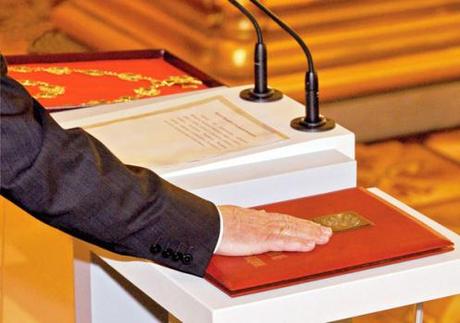 2012: Mr. Putin took the presidential oath on the Russian Federation constitution.
The Russian constitution guarantees in Article 41, #1: Everyone shall have the right to health protection and medical care. Medical care in State and municipal health institutions shall be rendered to citizens free of charge at the expense of the appropriate budget, insurance premiums and other proceeds. (We've been told by sources in the Duma that the concept of insurance premiums will be an important function for the middle and upper class as the state reduces the health budget each year leading up to 2025.)
Article 41, # 2: In the Russian Federation federal programmes for the protection and improvement of the health of the public shall be financed, measures shall be taken to develop State, municipal and private healthcare systems, and activities shall be encouraged which contribute to the improvement of human health, the development of physical education and sport, and ecological, sanitary and epidemiological well-being. (Bold added)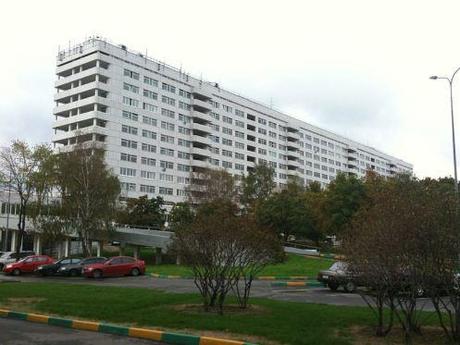 Moscow Hospital 15 photo by Mikhail Shcherbakov.
Russia essentially operates with a two level health system now, public and private. The annual reduction in national health spending is intentional in driving the market to private sources. Defining private includes insurance, private clinics and hospitals, and voluntary payment for services to doctors and health care professionals rendered in a public setting.
While the preamble to the constitution states that the Russian Federation shall be a social society, the same document also prescribes for individual participation in the social process:
- Article 28, #3: Able-bodied children over 18 years of age must take care of disabled parents.
- Article 40, #3: Low-income citizens and other citizens mentioned in law who are in need of a home may receive it either free of charge or for an affordable payment from State, municipal and other housing funds according to the norms established by law.
Before one automatically assumes that getting a free home in Russia is easy, remember that WWII veterans were promised free housing and put at the head of the line. Some of them are still waiting–a point of friction between President Putin who relies on elderly voters as an important segment of his political base, and Prime Minister Medvedev who must administer the state budget in the midst of a slowing economy while trying to accomplish Mr. Putin's spending priorities.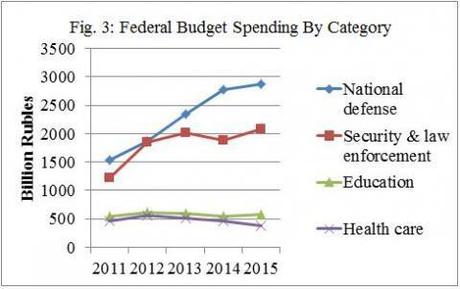 (chart: PONARS Eurasia)
In regards to health care, socialized medicine is a budget percentage and as the economy slows, funds for healthcare decrease. There is nothing free in this world and as you'd expect payroll deductions are meant cover healthcare and pension payments. Reality however doesn't always coincide with theory and the real healthcare spending is currently at 3.5% of GDP and set to slowly decrease each year up to 2025 when the target is 1% meant to cover basic services to the very elderly and poor.
There are budgetary exceptions of course and leading up to the 2012 presidential election, spending on pensions and healthcare were temporarily increased in order to keep the Putin base of older voters off the streets and on the sidelines during a year of intense opposition street protests.
Payroll deductions for national health, split between employer and employee, were increased from 3.1% to 5.1% in 2011 with some of that earmarked for infrastructure (buildings and equipment) improvements.
Some might even look to a time in the future when the state could begin reducing pensions. Although Article 39 guarantees a pension, no rate is set and provision #3 states: Voluntary social insurance, the creation of additional forms of social security and charity shall be encouraged.
Pensions are yet another potential budget buster and now account for 23% of Russia's annual domestic budget. Supplemented by payroll deduction (termed "social welfare"), pension reform is another looming issue for the government given a rapidly aging population acerbated by a very young retirement age.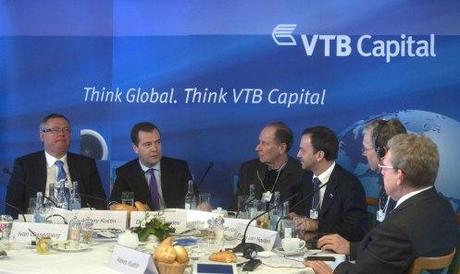 Then President and current Prime Minister Medvedev, 2nd from left, at a meeting with VTB bankers. Former Finance Minister Alexi Kudrin, far right.
In October of 2013 Russia's Duma (parliament) quietly passed a law that critics say leads to the nationalization of private retirement savings. The law begins by forbidding collection of a government pension when an individual has funds deposited in a private retirement account. Mr. Putin said that the law was only a temporary measure to stabilize Russia's pension system but leading Russian bankers opposed the law saying that nothing in the law spelled out how and when it would be repealed.
Russian Finance Minister Alexei Ulyukayev admitted that the government might access the private funds for public use but promised that funds taken from private accounts would be transferred back to the private owners once the state had approved marketplace guarantee mechanisms overseeing private funds. The value of private pension funds stood at $7.6 billion at the time the measure was signed into law.
Another significant disconnect between the government of Prime Minister Medvedev and the edicts of President Putin lies in the areas of how to balance slowing tax revenues with Mr. Putin's drive to modernize the Russian military. When President, Dmitry Medvedev concentrated on ways to reform the military, widely acknowledge as a corrupt institution.
Efforts to reform the military have largely been set aside with Vladimir Putin choosing to modernize instead of reform. President Putin has ordered the government to proceed with the SAP, a ten year State Armament Program with funding levels set to increase annually through 2020.
So what impact does all this have on the healthcare received by Russian individuals and families? We'd call your attention to an article in today's Moscow Times in which a journalist went undercover as a volunteer in one of Moscow's hospitals for children. This article does a great deal to helping readers come to an understanding of the current realities and the coming changes to Russia's health care landscape.