Here is a fantastic recipe we couldn't resist sharing with our readers: It is a baked chicken hearts stew in a pot.  At 100 grams, only 116 calories, it makes a delicious yet healthy stew.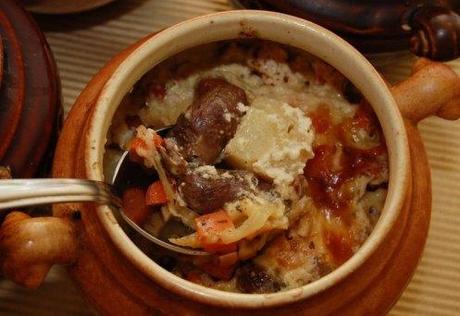 Ingredients:
200 g chicken hearts
1 can of diced tomatoes
4 potatoes, 2-3 carrots, 1 green pepper, 1 chopped onion
2 cloves of garlic
2 tbsp vegetable oil
salt and black pepper to taste
Preparation:
Boil the chicken hearts boil in lightly salted water.
Meanwhile cut and lightly stir fry the potatoes, carrots, onions and peppers but don't cook them completely.
Drain half of the liquid from the tomatoes.
Add the potatoes and tomatoes to ceramic cooking pots as shown in the photo.
Place in a preheated 180 degree (350 degrees F) oven for 30 minutes.
Add the minced garlic and cook another 15 minutes.
Take out of the oven and allow to "rest" for 5-6 minutes. Serve and enjoy!
If you don't have small ceramic soup pots make the recipe in a large pot or cast iron kettle.