On Tuesday evening Russian president Vladimir Putin met in the Kremlin to hear reports from the security services on the causes of the crash of a Russian airliner over Sinai on 31 October.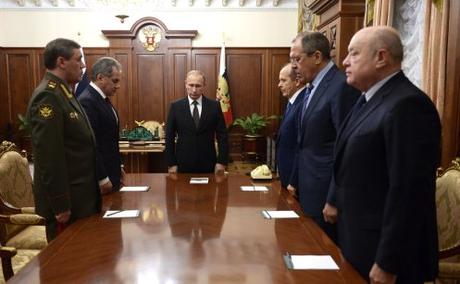 Mr. Putin began the meeting with a moment of silence.
Federal Security Service Director Alexander Bortnikov and Foreign Intelligence Service Director Mikhail Fradkov confirmed that the crash of a Russian airliner over Sinai was the result of an explosive device equivalent up to 1 kg of TNT.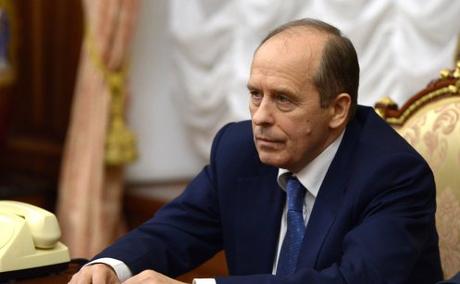 Federal Security Bureau Director Alexander Bortnikov
Federal Security Service Alexander Bortnikov told Mr. Putin that, "We can say with confidence that this was a terrorist act."
Russian investigators say that the device was exploded on board the Metrojet aircraft approximately 25 minutes after taking off from the Egyptian resort airport at Sharm el-Sheikh . The airline broke up in mid air with fragments scattered over a large area.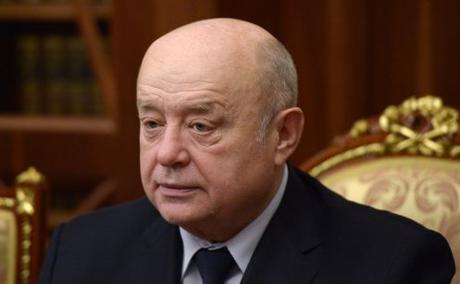 Foreign Intelligence Service Director Mikhail Fradkov
Mr. Putin responded to the report by saying, "We will not dry our tears – this will remain forever in our hearts and minds. However, this will not stop us from finding and punishing the perpetrators. We have to do it without any period of limitation; We will search wherever they may be hiding. We will find them anywhere on the planet and punish them."