On Tuesday, 03 March, the leaders of Russia and Belarus met in Moscow to convent the Supreme Council of the state of Union between Russia and Belarus. Although the union continues to be a work in progress, the two nations are working to integrate their economies and currencies more closely.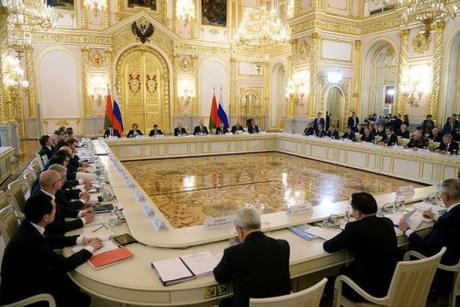 St. Andrew's Hall in the Kremlin Grand Palace: Supreme Committee of the Union State of Russia and Belarus, 03 March 2015.
The two nations at one time had planned to share a single currency, the Russian Ruble, but Belarus president Aleksandr Lukashenko shelved the idea after concerns about ceding too much authority to Russia's Vladimir Putin.
Asked by reporters as to how the Union State fit within the framework of the Eurasian Economic Union, Putin said the Union State was "no substitute for the common market and common economic space set up among Kazakhstan, Belarus, and Russia." That economic bloc was to have included Ukraine prior to the "Maiden" events in Kyiv last year.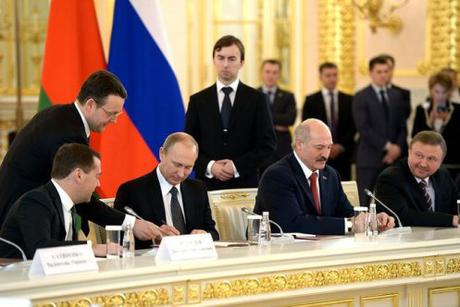 Additional agreements on development of trade and economic relations were signed.
The Supreme State Council is the highest authority in the Union State, and is made up of the Presidents, Prime Ministers and the heads of both chambers of the respective parliaments. The presidency rotates and Lukashenko is the current Union State chief executive.
Russia and Belarus entered into a Union state agreement on 08 December 1999, but have failed to implement many of the original aspirations, such as a common legal system of courts, and a common currency. In 2008 the National Bank of Belarus announced that the Belarusian ruble would be tied to the US Dollar instead of the Russian ruble.