I've covered K&L single barrels of Russell's Reserve Bourbon rather extensively on TWJ. It's a whiskey I love from a store I adore and it's something I drink often when I want a heafty bourbon I can rely on. Is it perfect? No, nothing is, but on the whole I find I have more good-great single barrel experiences with Wild Turkey than I do with other bourbon producers… though that could be my Wild Turkey love talking.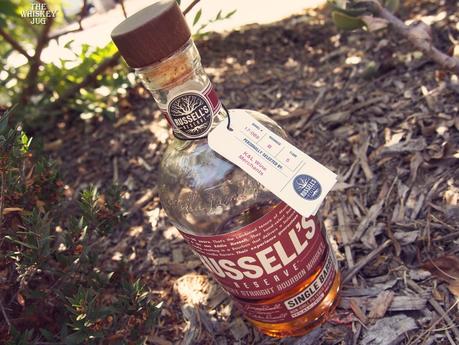 Being a single barrel product remember that unless you get the same barrel I did you're going to have a different experience than me. You're going to get something similar, but not the same, and that's the blessing and the curse of single barrel products. It's also why if you find a barrel you love you gotta grab a few bottles because it won't be back on the shelves ever again.
Russell's Reserve Bourbon Review: Details and Tasting Notes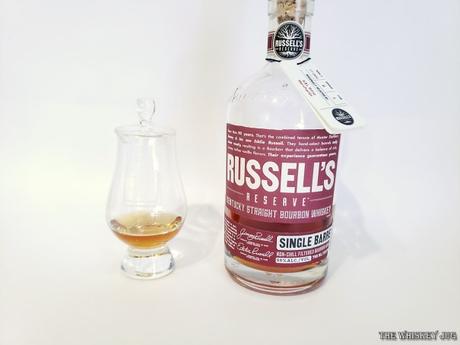 In K&L's Words: Russell's Reserve Bourbon
"…this is the very best whiskey that nearly 100 combined years of whiskey making experience can deliver. But how exactly? First, they insist on a proper souring step, where lactobacillus bacteria is harnessed to adjust the pH of the original mash. Next, they insist on drawing the spirit of the still at lower proof to retain the inherent flavor of the grain, providing texture and depth to the spirit.

Finally, they fill their casks at lower proof than the rest, usually 110 proof, providing the perfect environment for the whiskey to mature. That's why we ALWAYS find exceptional casks at Wild Turkey; they simply make some of finest whiskey available. No excuses, no gimmicks, just old fashion sour mash Bourbon at its very best. This spectacular cask is the driest and most herbal of our current single barrel offerings. It was aged in warehouse B on the fifth floor and drawn from the cask at 110.7″
Russell's Reserve Bourbon price, ABV, age and other details
Region: Kentucky, USA
Distiller: Wild Turkey
Bottled For: K&L
Mash bill: 75% Corn, 13% Rye, 12% Barley
Cask: New Charred Oak
Age: NAS (10+ years)
ABV: 55%
Non-Chill Filtered | Natural Color
Barrel: 16-089
Price: $65
Russell's Reserve Bourbon Tasting Notes
EYE
Polished oak
NOSE
Brulee, banana, dark fruit, spice, sandalwood, nuts and bits of cocoa and orange oil.
PALATE
Honey, dark fruit, oak, leather, pepper, cinnamon, clove and a touch of vanilla.
FINISH
Long -> SPICE, oak and dark fruit.
BALANCE, BODY & FEEL
Ok balance, full body and a syrupy feel.
Russell's Reserve Bourbon Review: OVERALL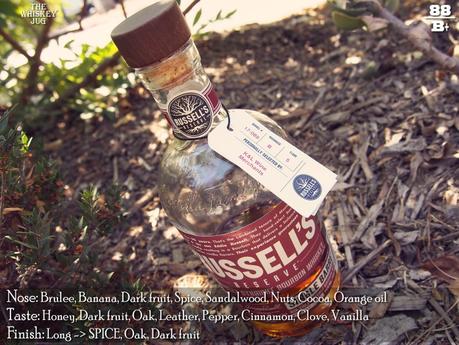 The thing that sticks out most to me about this Russell's Reserve Bourbon (16-089) is how spicy it is. Aroma, palate and especially the finish, it's a big ol' spice bomb. Well.. bomb might be too aggressive because it doesn't start with huge spice, but more ends there. It's a bloom… a spice bloom.
The aroma is sweet with a spice accent and rustic oaky undertones. The palate is noticeably more spicy and complex with the sweet notes and rustic notes settling in nice layers below the spice. Then the finish kicks the spice into overdrive and dominates with sprinkles of oak and fruit. An odd bird, but a tasty bird.
SCORE: 88/100 (B+)
Russell's Reserve Bourbon Review
Nose -

88

Palate -

88

Finish -

88

Balance, Body & Feel -

88
88
Russell's Reserve Bourbon Review Summary
Russell's Reserve Bourbon (16-089) is a big spicy tasty whiskey.
Sending
User Review
0

(

0

votes)
Comments Rating
0

(

0

reviews)