Being the highly anticipated follow up to my favorite bourbon of all time, the stunning Russell's Reserve 1998, the Russell's Reserve 2002 has a lot to live up to. Being the first official barrel proof (cask strength) non-chill filtered release ever by WT it had a good chance, but to really give it a fair comparison I did the only reasonable thing and drank it side-by-side with its predecessor.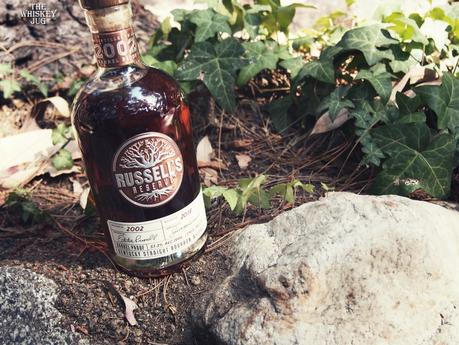 I'm not going to give away the results up here, that's what the review section is for, but I will tell you that it didn't let me down. That much you can be assured of, but based on what you get in the bottle is it worth the $250+ it goes for? Well… that's up to you to decide.
Russell's Reserve 2002 Review: Details and Tasting Notes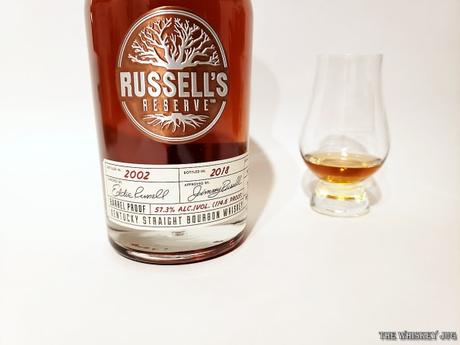 In Wild Turkey's Words: Russell's Reserve 2002
"As Bourbon collectors continue their quest for those hard-to-find whiskey "unicorns," Russell's Reserve® unveils a real Kentucky gem with the release of Russell's Reserve 2002 – a beautiful vintage hand-selected by Master Distiller Eddie Russell. This marks the first non-chill filtered, barrel proof bourbon from the venerable brand.

To find the liquid for the release, this Bourbon Hall of Famer spent years searching through more than half a million barrels for the perfect sequel to the covetedRussell's Reserve 1998, which received a 94 rating from esteemed publication Whiskey Advocate. A mere 25 barrels were chosen for this endeavor to create a truly sought-after spirit that will be a welcome addition for passionate connoisseurs."
Russell's Reserve 2002 price, ABV, age and other details
Region: Kentucky, USA
Distiller: Wild Turkey
Mash Bill: 75% Corn, 13% Rye, 12% Malted Barley
Cask: New Charred Oak
Age: 15 years
ABV: 57.3%
Cask Strength | Non-Chill Filtered | Natural Color
Price: $250
Russell's Reserve 2002 Tasting Notes
EYE
Mahogany
NOSE
Oak, dried dark fruit, caramel, complex baking spice, cocoa, pine-like herbal and some bits of apples, gingerbread and banana cream pie.
PALATE
Oak, dried dark fruit, spice, citrus, complex baking spice, herbal, caramel, toasted gingerbread and a bit of banana, char and cherry candy.
FINISH
Long -> Oak, caramel, dark fruit, char, apples and menthol.
BALANCE, BODY & FEEL
Perfectly balanced, rich full body and an. oily slick feel.
Russell's Reserve 2002 Review: OVERALL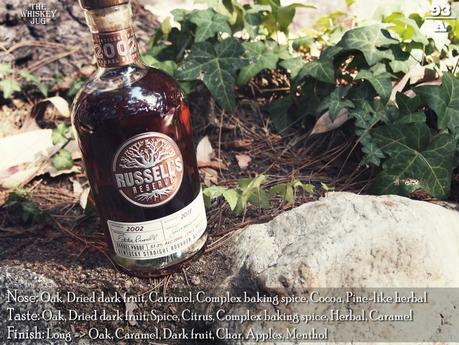 Um… woah. I'm getting notes in this Russell's Reserve 2002 I've never gotten in a Wild Turkey ever. This is unique and interesting, but definitely a Turkey, and it's filled with subtle complexities that come and go and emerge more with a bit of water. Though the most striking element of this whiskey is the balance, it reminds me of the old Wild Turkey Diamond Anniversary with its balance, though not its overall profile.
The aroma, palate and finish walk that delicate line of rustic and sweet, keeping everything in harmony. There are zero off notes and it does something magical that all excellent whiskies should… it makes me want to explore it. Take my time, slow down, enjoy, use water to strip through some of the layers of alcohol and see what's going on inside this bottle. Well done Eddie.
SCORE: 93/100 (A)
Russell's Reserve 2002 Review
Nose -

93

Palate -

93

Finish -

93

Balance, Body & Feel -

93
93
Russell's Reserve 2002 Review Summary
Russell's Reserve 2002 is VERY Good. Noticeably more spice than your typical Turkey, but that's part of its charm.
Sending
User Review
0

(

0

votes)
Comments Rating
0

(

0

reviews)