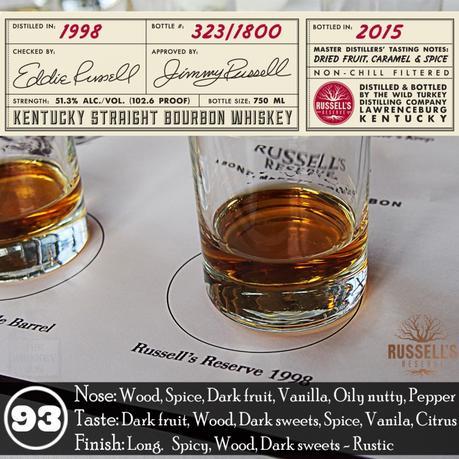 The Russell's Reserve 1998 is an extremely limited run (2,400 bottles / about 9 full barrels) of bourbon that was initially distilled and set aside to celebrate a future milestone for Jimmy Russell. However, barrels sometimes have other ideas about how they should mature. A few weeks ago I was out at Wild Turkey, which is where I was drinking this among other things, and Eddie gave us all the backstory on the RR 1998.
The story as Eddie tells it is that he was checking on these barrels, since they were for a special project, and he noticed that they were evaporating a whole lot faster than expected. He pulled samples and took them to his dad (Jimmy) to try and after some discussion they dumped the barrels into a steel holding tank towards the end of 2014 making this officially a 15 year old bourbon (due to distillation date) and is being bottled at 104 proof. All of which has culminated in the Russell's Reserve 1998 being the most expensive Wild Turkey released to-date.
Russell's Reserve 1998 Info
Region: Kentucky, USA
Distiller: Wild Turkey
Cask: New charred oak
Age: 15 years
ABV: 52%
Non-Chill Filtered | Natural Color
Price: $250
Russell's Reserve 1998 Review
EYE
Dark caramel
NOSE
Heavy woody dark sweets mix with thick notes of spice, cherry heavy dark fruit, a mild vanilla and an oily nuttiness. Hints of dust and peppery citrus peel come through lightly and add a nice facet to the complex nose.
PALATE
That cherry heavy dark fruit moves up accompanied by solid notes of wood, complex dark sweets and spice. Light notes of vanilla, citrus and sweet tobacco keep things interesting. Hints of candy corn, burnt sugar and an almost salty savoriness come and go as it moves across the palate.
FINISH
Long, rustic, warm and spicy with a nice bit of wood and dark sweets.
BALANCE, BODY & FEEL
Great balance, thick body and heavy velvety texture. A joy to drink.
OVERALL
The Russell's Reserve 1998 was my favorite of all the expressions of Wild Turkey we had on the tour and is among my favorite Wild Turkey expressions of all time. It's simply magnificent with its rich and complex aroma and flavor. I had a hard time not just drinking this all evening and even contemplated ways to sneak the bottle back to LA with me. In the end I decided they would all result in me never being allowed back so I abandoned those ideas and just kept alternating between this and the Master's Keep as the evening wore on. If it were in my price range there is no doubt I would grab a bottle when it comes out.
SCORE: 93/100