I kept going.
– Kayleigh Williamson, the first runner with Down Syndrome to complete the Austin Half Marathon (2017)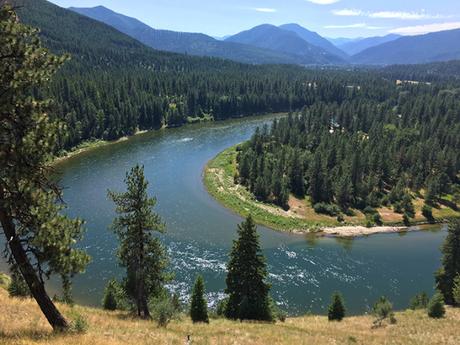 Behold! The Clark Fork River
Runners whose goal it is to race in all 50 states often find themselves living a tale of two –ities: opportunity and serendipity. This summer, the Treasure State weighed in with a golden opportunity I couldn't refuse.
One of my favorite places in the country, Montana offers several attractive possibilities for the 50 states runner. These include the Madison Marathon, which at a starting elevation of 9,250 feet is the highest road marathon in the country; the Governor's Cup, which follows a gentle downhill course that finishes in the capital city and gold rush town of Helena; and the Missoula Marathon, which takes place in the small-town home of the University of Montana and is among the highest-rated events on RaceRaves.com.
So my choice of Montana marathons wouldn't be easy — until it was. As luck would have it, Katie's family (with our input) chose Yellowstone National Park and Grand Teton National Park in Wyoming as the destination for this summer's family vacation. And as timing would have it, our visit to the parks would end the day before the Missoula Marathon in neighboring Montana.
If that weren't enough to seal the deal, Tony Banovich, the Race Director in Missoula, had generously invited us to join them for their marathon in early July. And so as soon as family getaway plans were finalized, we jumped at Tony's offer to join him and his Run Wild Missoula team in Big Sky Country.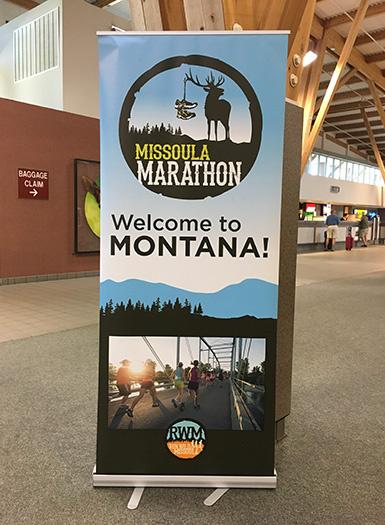 With our family vacation ending on Saturday, the day before the race, we departed Grand Teton National Park that morning en route to Missoula some 400 miles away. Eight hours later, we pulled into town too late to make the pre-race expo but still in time to pick up my packet at the tiny local airport (a much-appreciated option; see "Production" below). Then it was time to begin in earnest the all-important business of weather watching and forecast fixating.
Marathon weekend found Missoula in the midst of a heat wave that would have made Beelzebub sweat. The temperature on race day was expected to reach the high 90s, the silver lining being a starting temp in the mid 60s that would rise gradually and peak in the late afternoon, once all runners were safely off the course. Regular pre-race emails from Tony and his team had assured us the show would go on as planned, while explaining what they'd be doing to prepare for the potentially dangerous heat (e.g. shortening the course time limit from 7½ to 6½ hours).
So all things considered, my concerns about racing the mercury to the finish line were minimal. Luckily, with a week of high-temperature and high-altitude hiking already in my legs, I had no plans for anything other than a relaxed, leisurely marathon.
As it turns out, I had no idea just how relaxed.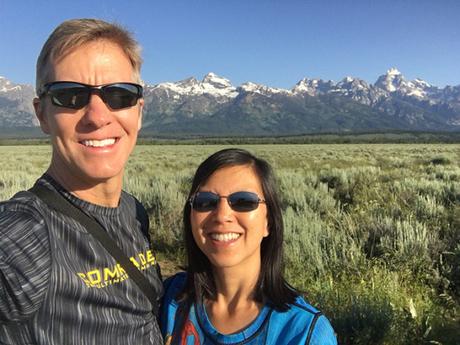 Grand Teton, the reason we missed the pre-race expo
From fireworks in Frenchtown…
The mind always knows when it's race day.
I woke up in the darkness, roughly a minute before my iPhone alarm did the same. Thirty minutes later we were in the car on the near-deserted highway for the 15-minute drive to Frenchtown, where the marathon would begin just after sunrise. Parking was easy peasy, with most runners riding the shuttle bus to the start.
Strolling toward the start line we were lucky to catch Race Director Tony B, who was predictably seeing to last-minute details. He was fighting a cold but seemed relaxed (more so than me) and excited to see all his hard work come to fruition. He wouldn't be disappointed.
Fireworks briefly filled the dusky gray sky with light and sound, providing a cool distraction as I waited in the last-minute porta-potty line. Rural and low-key, and particularly so early in the morning, Frenchtown feels like a one-horse town. This was shaping up to be my kind of race, and I reached the start line in a more relaxed frame of mind than I'd arrived.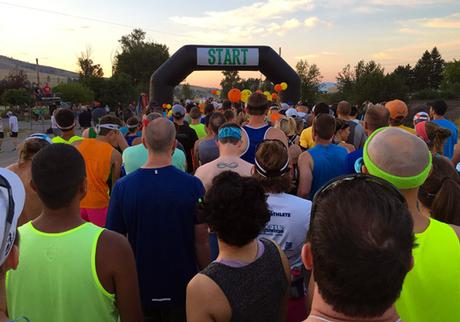 Awaiting the go-ahead to run wild
The singing of the National Anthem (for which everyone stood, yes) was followed by the wheelchair start which was followed by the rest of us, a small stampede of runners directed toward downtown Missoula 26.2 miles away.
No sooner had I elevated my heart rate and found my stride than I heard the question come from directly behind me. "Are you Mike?" I glanced back to see Colorado native Eric O. pull alongside me. Eric had been the enthusiastic winner of a free race entry in our 2016 RaceRaves Missoula Marathon reviews giveaway, and today he was joining his daughter who was running her first half marathon. We ran together for a couple of miles, chatting about his first Boston Marathon earlier this year and his positive experiences at past Missoula Marathons.
Then I wished him luck and held myself in check as he gradually pulled away behind the 3:40 pace group. I was determined not to do anything reckless here today, with my only goal being a sub-4 hour finish to keep my streak of sub-4 road marathons alive (despite a close call at Victoria Falls). That meant showing the discipline to keep my early pace controlled and comfortable (~8:30/mile), to avoid imploding in the second half.
Or so I thought.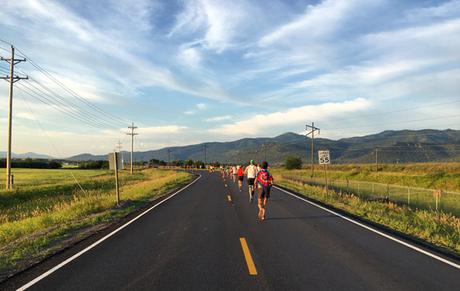 Eric O. (in tie-dyed tee) pulls away in mile 4
The first 9.5 miles of Missoula was among the most pleasant stretches in my marathon memory. After a couple of gentle turns in the first mile, we ran with an eye toward the horizon on a well-maintained, recently blacktopped road flanked by open countryside and overseen by a distant wall of mountains on our right. Past horse stables, an industrial paper & packaging plant and even a donkey farm we ran, the miles ticking off with relative ease thanks to the scenery and still-cool temperatures. And though the rising sun would flex its muscle soon enough, the early morning cloud cover certainly helped as I didn't have to don my sunglasses until mile 9.
With plenty of fresh air and elbow room, Big Sky Country was definitely living up to its name. And though mentally I wasn't in the best place to be tackling a marathon after a week in Yellowstone and Grand Teton, I wouldn't have wanted to be anywhere else.
All the small details of the race were handled beautifully and with the runners in mind. For instance, each aid station was advertised in advance by unmistakable placards, with each station offering Powerade in front and water in the back, a sequence clearly articulated by the excellent volunteers. This struck me as Baton Rouge with better scenery.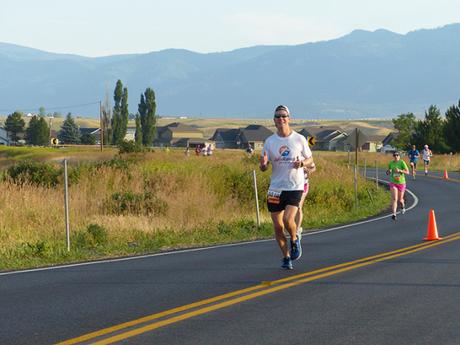 Two thumbs up at mile 9
"Please don't collapse — it's our day off!" urged the placard at one of the nurses stations we passed. Gotta love health workers with a sense of humor, and hopefully they got to enjoy their day off without interruption.
In mile 10, a sharp right turn led us west away from Mullan Rd toward the Clark Fork River, the first of two rivers intersected by the marathon course. Open countryside stretched out on all sides, the mountains now looming large ahead of us as we made our first river crossing of the day via the two-lane roadbed of the Kona Bridge. Much to my chagrin, a small group of well-meaning spectators sat with music cranked up on the other side of the bridge — I'd been reveling in the tranquil stillness of our surroundings, and the dissonance hit my ears like a sonic boom.
Mother Nature would provide all the external distraction and entertainment I'd need on this day. Luckily amplified interludes were few and far between, though I was able to muster a moment of music appreciation at mile 13. There we were greeted by Bon Jovi's "Livin' on a Prayer," a favorite of clever spectators at the midway point of marathon courses across the country (WHOAAAAA, we're halfway there…).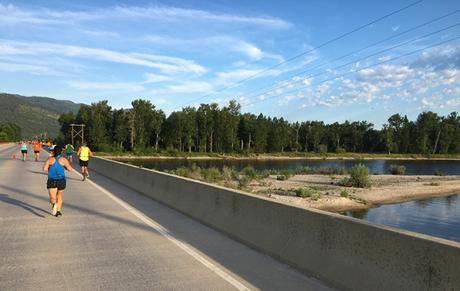 A river runs under it: Kona Bridge, mile 11

… to a near-miss in Missoula
The lone hill of note on the course — "Halfway Hill" we'll call it — awaited just after the midway point. At its base a cowboy on horseback waved and greeted us. "Where you coming from?" he asked good-naturedly. Halfway Hill ascended for about half a mile through soaring evergreens and featured a false summit where an aid station awaited. Slowly I climbed, maintaining a jog while chatting with a fellow from Kansas City.
From there the course rolled for about 1½ miles before making its final descent near the mile 16 marker. Unfortunately there were no photographers on this scenic wooded downhill as there had been the year before. Accelerating downhill toward an upcoming aid station, I decided this was a good time to force down consume my first Stinger gel of the day, since water was imminent. Swallowing the first mouthful, "BAD IDEA" sirens went off in my head as a wave of nausea immediately washed over me. I don't recall the last time I felt nauseous during a race, maybe never. Even worse, this feeling would stick with me for the next two miles and signal the beginning of a very looooong ten miles to the finish.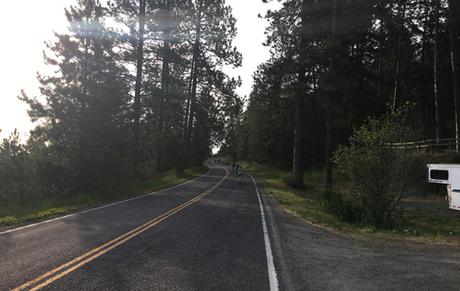 Heading up Halfway Hill, mile 14
Despite my nausea and early fatigue, mile 17 was one of the most entertaining of the day. It started with my second Katie sighting, followed by a fellow playing the piano on the lawn of someone's backyard (and in full dress tails Big Sur-style, I do believe). Soon after that a young girl (maybe 4 years old) in ballerina outfit turned cartwheels and cheered as we approached. And finally we crossed the Bitterroot River at perhaps the most photogenic spot on the course, Maclay Bridge, which was recently added to the National Register of Historic Places. Disappointed not to see an official photographer positioned on the far side of the bridge this year, and honestly looking for any excuse to slow down, I paused to snap a shot of my own.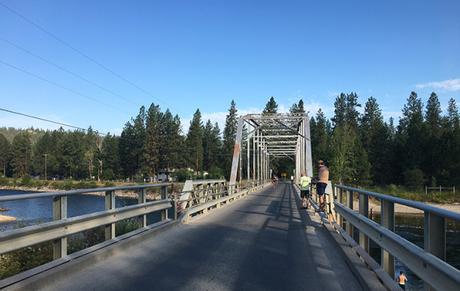 Maclay Bridge, mile 17
All three mile 17 moments (Katie not included) were charming pick-me-ups and spot-on examples of what makes Missoula a special race and a special place.
By mile 18 my inexplicable nausea had passed for the most part, but my body was clearly done. Whether or not "adrenal fatigue" is a legit medical condition, I visualized my adrenal glands as shriveled-up raisins with nothing left to give. My legs felt encased in concrete, and increasingly I was able to walk faster than I could run. This was a tough situation, similar to — though more brutal than — what I'd faced in Boston in 2016.
As the course entered the residential neighborhoods of Missoula and transitioned onto narrow tree-lined streets, sprinklers became plentiful. Many were strong enough only to wet my upper legs, and though the heat remained largely a non-factor at this point, these cooling interludes were much appreciated.
Case in point, the single best hydration moment of the day came courtesy of two young girls standing by with loaded Super Soakers at the ready. One girl met my eyes as I approached with an inquiring "OK to shoot?" expression on her face. Without a word I raised my hand in the universal gesture of "Bring it on," and was immediately hit by a blast of cold water that felt incredible and instantly revived my spirits, if not my legs.
For once I didn't mind intermittent walking because my #1 goal here in state #16 was to enjoy my scenic foot tour of Missoula. And even in my depleted state I was doing just that. How could I not, what with the town's pleasant neighborhoods, cute homes boasting immaculately manicured lawns and spectators that were supportive in every way?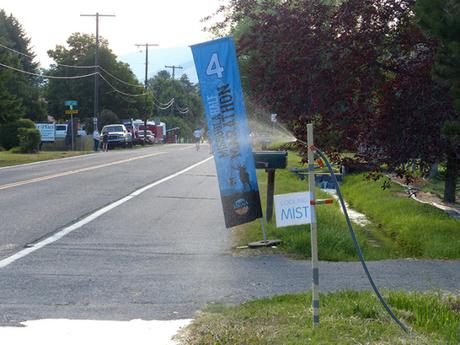 The residents of Missoula never mist a chance to take care of their runners
At the same time I'm a proudly competitive guy, and as I shuffled onward my mind kept nagging at me, the dangling carrot of the sub-4-hour marathon urging me onward. Did I still have a chance? Had I banked enough time in the first half to overcome this second half implosion? Where was the 4-hour pace group? When would they pass me? And would I care when they did? Of course I would, but would I be able to do anything about it?
This final possibility was the most disconcerting, and it brought to mind the helpless feeling I'd had in Eugene when the 3:25 pace group had blown by me in mile 23.
Each time I saw Katie in the second half (at miles 17, 20, 21 and 24), I seized on the opportunity to slow to a fast walk alongside her. First time I've ever done that, and with each slowdown I felt like I was adding an hour to my finish time. She'd hand me the coconut water we'd brought, and I'd drink as much as I could stomach while trying to rally my exhausted body.
"To give anything less than your best is to sacrifice the gift" read the race placard posted around mile 20, a quote from the legendary Steve Prefontaine. That was followed by "The challenge ahead of you is never as great as the strength within you" — a bit corny to be sure, but under the circumstances both relevant and uplifting. Much more so than the least creative spectator sign of the day, which in an apparently failed attempt at snarky humor simply read "Motivational sign."
For a short stretch I ran alongside an overly sweaty fellow who looked like he'd just climbed out of a swimming pool. He mumbled some words of encouragement at me and I grunted back a weak "You too" before again slowing to a walk. He pushed ahead at a jog, though not a particularly speedy one since I passed him soon after.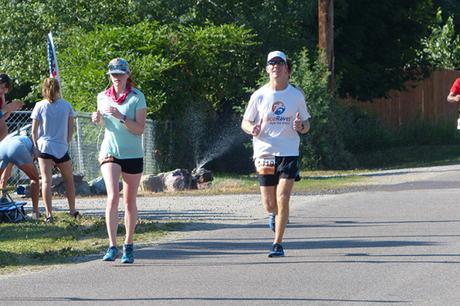 "Thumbs up" is marathoner-speak for "I'm still alive" (mile 21)
Each time I slowed to a walk I'd feel a momentary wave of lightheadness, with chills passing through my legs. And here it wasn't even hot yet, oy. I'd walk briskly until my equilibrium returned for the most part and then I'd pick up the pace again, feeling more composed. And I listened for the telltale cheers that might indicate the 4-hour pace group coming up fast behind me. Given that I was now leaving a charred trail of 10-minute miles in my wake, it was only a matter of time.
After mile 20 I'd use each mile marker as a goalpost and an excuse to walk. I even slowed to a walk at the mile 25 marker, so little energy did I have to finish this thing, much less finish strong. As though anticipating my arrival, an official race sign posted just past the mile 25 marker promised "One more mile in the pain cave." As marathons go, this particular pain cave was deeper and darker than any I'd ever been in. Then roughly half a mile later, "You've come this far, you might as well finish."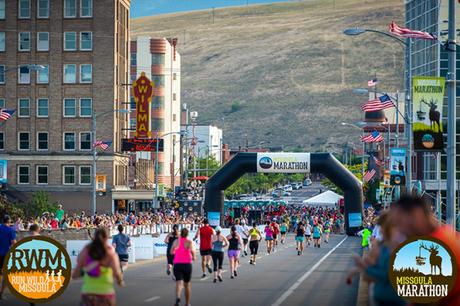 (Photo: Gameface Media)
I was liking these signs more and more.
I reached the mile 26 marker running on fumes and with my wits half intact, so it took me a moment to register the fellow wearing an orange tee who fell in beside me at an easy jog. "How you feeling?" asked Race Director Tony B with a furrowed brow and sympathetic smile. "Better now, " I acknowledged, my spirits lifted by the mile 26 marker and by his friendly presence.
Tony does what he does because helping others achieve their goals and realize their dreams is his passion, a truth that becomes self-evident both in talking with him and in every detail of his race. And he's fortunate to be able to pursue that passion in one of the most beautiful places on Earth. Getting to know Tony and other amazing folks in the running industry has been one of the most rewarding benefits to building and growing RaceRaves these past three years.
Now he jogged alongside me for a short distance before pointing at the upcoming Higgins Avenue Bridge. "You've got one last uphill hump, then it's all downhill to the finish," he reassured me and with that, he left me to finish on my own. Feeling his eyes (true or not) still on my back, I put every last ounce of energy I had into cresting that bridge, where I let momentum carry me down toward one of the most magnificent finish arches I'd ever witnessed, the late morning sun now showcasing the marathon logo atop the arch.
A picture-perfect finish to a race that, aside from nearly killing me, did everything right.
Turns out Tony's last-minute motivation was exactly what this doctor ordered. Given my grotesque "positive split" — i.e. a second half slower than the first half — I had no business finishing in 3:59:18, but that's exactly what my Garmin read as I crossed the finish line completely spent. After Victoria Falls, Missoula was the second straight sub-4 victory I'd snatched from the jaws of defeat. Wobbling forward in the finish chute, I turned seconds later to see the 4-hour pacers crossing the line right on time as pacers tend to do — alone.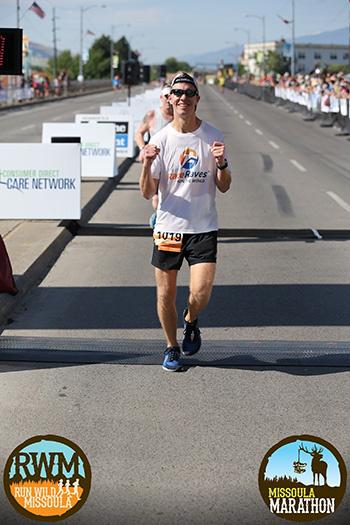 Ain't nothin' so fine as a finish line
When the going gets tough, keep going
Jubilant relief swept through me as a friendly volunteer hung the hefty bronze finisher's medal around my neck. Then I collapsed on the curb and gave Katie (waiting outside the finish chute) a "We did it" fist pump. A medical attendant came by to check on me, and with a weak smile I assured her I'd done this before and I'd be just fine. Montana and state #16 completed? Check. In less than four hours? Check. All things considered, and despite my body's protests to the contrary, it had been a very good day.
Slowly and deliberately we made our way to the post-race festival in Caras Park, where I snapped a finisher photo and took advantage of the massage tent, the latter at an additional charge. Predictably my stomach wasn't in the mood for solid food, and wasn't willing even to give the Big Sky Brewing tent a chance. Dejected, I refueled with a strawberry lemonade from a local vendor before heading back to the finish line to watch RaceRaves member and fellow Marathon Maniac Tim (who'd made the drive from South Dakota) finish his own race. With the clock approaching high noon, temperatures were creeping toward the 90s as the last few finishers crossed the Higgins Avenue Bridge.
Then, roughly 18 hours after we'd arrived, it was time to bid Missoula a fond farewell. We hustled back to our hotel for a quick shower, before hitting the road to nearby St. Regis for a visit with friends and an afternoon float on the Clark Fork River. Katie and I both regretted the brevity of our stay — we weren't even able to check out the University of Montana campus — but unfortunately it couldn't be helped this time. And on the bright side, we now have a compelling reason to return. Missoula is one of the few destinations on my 50 states quest so far that I honestly hope to revisit. Besides, I feel like the I owe the course a rematch on fresher legs.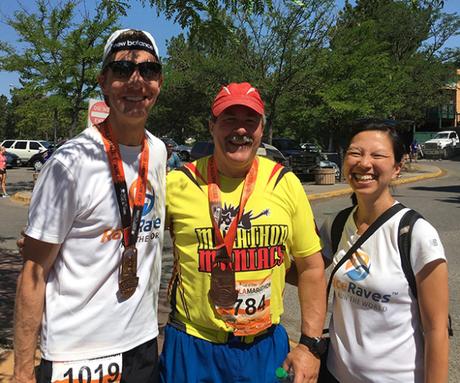 Celebrating with RaceRaves member and 50 states finisher Tim M. at the post-race festival
Because as much as I'd hoped to live in my own reality distortion field, the truth is that an incredible summer spent traveling and racing in the heat of South Africa and Zimbabwe, and then hiking in the heat and elevation of Northwest Wyoming, had finally taken its toll. Clearly I'm no Mike Wardian, the 43-year-old freak of nature who this past August conquered the country's most difficult marathon on Pikes Peak a few hours after notching 100 high-altitude miles at the iconic Leadville Trail 100 Run. Completing either race is enough to wreck most normal runners, but Wardian isn't normal — he finished both races in a combined record time that's unlikely to be broken any time soon. Coincidentally, Wardian was scheduled to speak at this year's expo in Missoula, an appearance we missed due to our late arrival. If only we'd made it on time, I might have benefitted from his secondhand bad-assedness.
In any case, Missoula crystallized in my mind the most important lesson any runner can learn, and the two words that so often determine success or failure in any walk of life: Keep going. Never give up and never give in. One foot in front of the other, always forward until you cross that finish line. Because you never know.
Keep going. Easy to promise yourself from the comfort of your sofa, much tougher to do when your finely tuned engine is leaking oil in the heat with six miles to go. If I'd walked a few more seconds here or there rather than pushing forward at every opportunity, I'd have finished in just over four hours and spent the next 34 states woulda- coulda- shoulda-ing. Because once the race is over and you regain your senses, it's easy to rationalize how you could have done better.
Keep going. Anyone can be a runner when they're feeling good and running with the wind; the challenge comes when the going gets tough, then tougher, then toughest. What will you do when the deck is stacked against you? Will you fold? Or will you go all in, show your best poker face and push your chips to the center of the table? No matter the conditions, no matter the distance, mental toughness is the wild card each and every time that starter's pistol fires. Just ask Kayleigh Williamson, who this year because the first runner with Down Syndrome to complete the Austin Half Marathon in a time of 6:22:56.
At any rate, any runner who's tried it will tell you: this is how the 50 states quest works. Running a marathon (or longer) in every freaking state often plays out as a tale of two –ities, opportunity and serendipity. State #16 was the best of times, it was the worst of times — Big Sky beauty and hospitality coupled with my worst road marathon time to date. But hard times or not, our visit to the Treasure State exceeded even my great expectations.
Because I enjoyed the dickens out of Missoula.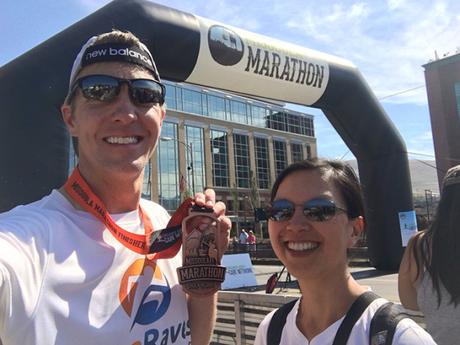 BOTTOM LINE: It's no hyperbole to say Missoula is the perfect small-town marathon. But you don't need me to tell you that – it's one of the most highly rated events on RaceRaves (currently an amazing 4.9 shoes out of 5, based on 140 reviews). Tony Banovich and his team let the peaceful rural beauty of the point-to-point course and the friendliness of the locals speak for themselves, and both speak loudly. As you might guess, you won't get mile after mile of blasting music or screaming spectators (thankfully), but you will get a wildly rewarding marathon experience that, Halfway Hill and potential July heat aside, makes you wish you could bottle Big Sky Country and take it with you. And lucky you if you live here.
Unlike other expensive events that "entertain" their runners on race day with blaring music, colorful distractions and contrived bells and whistles, Missoula feels entirely authentic. And delightful touches like a piano player on a front lawn at mile 17 only add to its charm. Missoula is a spot-on race to include in your summer vacation plans, with Yellowstone National Park and Grand Teton National Park to the southwest and Glacier National Park to the north. Though if you do opt for a racecation, do your legs a favor and run the race first — several days spent hiking in the Big Sky heat and at Big Sky altitude beforehand will wear you down, and the ultimate victim will be your legs on race day. Somewhere around mile 18. Hypothetically speaking, of course.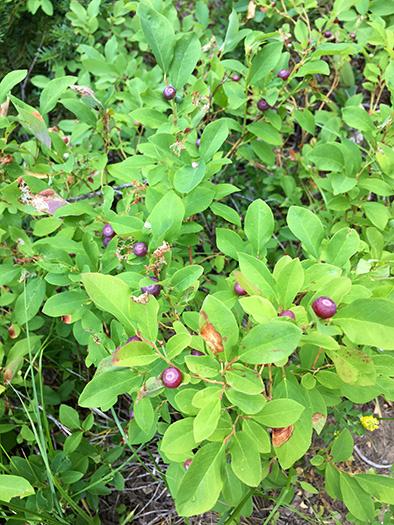 Huckleberries in the wild
PRODUCTION: In a word, elk-cellent. The Run Wild Missoula team are clearly pros — from the regular prerace email updates (particularly important when the weather forecast threatens triple digits), to enabling expo latecomers to pick up their bib numbers hassle-free at the Missoula airport, to the low-key start-line fireworks in Frenchtown, to the well-labeled aid stations, to the motivational signs posted along the course in the later miles (when I very much wanted to call it a day), to the awesome post-race spread and Big Sky Brewing tent.
Case in point, I didn't realize until Saturday afternoon — entirely my fault — that I wasn't going to be able to reach the expo before it closed, so I sent an email asking if I might be able to pick up my bib number at the airport that evening. Soon after, I received a very friendly and personalized "Welcome to Missoula!" email that went on to say, "We are happy to provide you with the opportunity to pick up your packet late!" The whole process was quick and easy, with Missoula Marathon banners greeting us at the airport. I've never received better customer service from a race.
(That said, I would suggest extending expo hours until 6:00pm, since a 4:00pm closing time for a one-day expo seems a bit early.)
Seeing all the sprinklers, hoses and squirt guns mobilized for our benefit, it felt like the entire town of Missoula had prepared and shown up for its hometown race. The town clearly takes pride in its marathon, and as a visiting runner there's no better feeling. Because you can't fake that — coming from Los Angeles, I know the disappointment of having an A+ race play to apathetic locals. Like Louisiana in January, this is a race organized first and foremost with the runners in mind. Race Director Tony B. seemed very relaxed (despite fighting a cold) when we saw him moments before the race, which is unusual for an RD, and I was reminded of what Peyton Manning once said: "Pressure is something you feel when you don't know what the hell you're doing." Clearly Tony and his team know what they're doing.
(And if you decide to run Missoula based on anything I've said, tell 'em Mike and Katie from RaceRaves sent you!)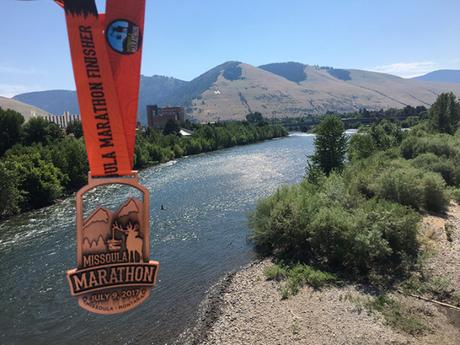 SWAG:
I'm not that guy who proudly displays his bib numbers, but the Missoula bib stands out since it's shaped like the state of Montana — another of the small but cool details at which this race excels. But while I'm not a bib guy, I'm definitely a medal guy, and this year's Missoula medal is a classic reminder of a first-class event. Suspended from an eye-catching orange ribbon, it's a hefty piece of bronze hardware emblazoned with the race logo — not always a good thing for races, unless your logo happens to feature a silhouette of an elk with shoes dangling from its antlers on a backdrop of mountains. Then you show it off whenever you can. Likewise the race tee is a keeper that promises to become a regular in my rotation, white with attractive orange lettering and stitching.
Free finish-line photos were provided to all runners courtesy of Gameface Media, though unlike last year no photographer was positioned on the opposite side of Maclay Bridge, maybe the best vantage point for photos along the course. And Referee Photo was set up at the post-race festival to print glossy hard copies of your triumphant finisher's photo at no charge. First time I've encountered that, and one more "surprise and delight" moment in a weekend full of them.
Updated 50 states map: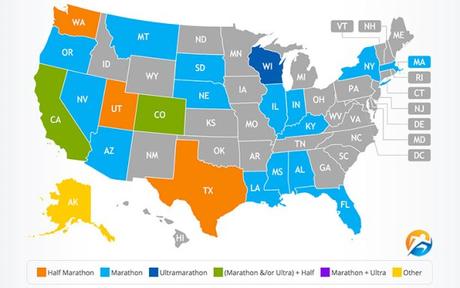 RaceRaves rating:

FINAL STATS:
July 9, 2017 (start time 6:00am)
26.18 miles from Frenchtown to Missoula, MT (state 16 of 50)
Finish time & pace: 3:59:17 (first time running the Missoula Marathon), 9:08/mile
Finish place: 248 overall, 23/53 in M 45-49 age group
Number of finishers: 867 (456 men, 411 women)
Race weather: cool, partly cloudy at the start (temp 64°F), warm & sunny (74°F) at the finish
Elevation change (Garmin Connect): 372 ft ascent, 221 ft descent
Elevation min, max: 3,045ft, 3,261ft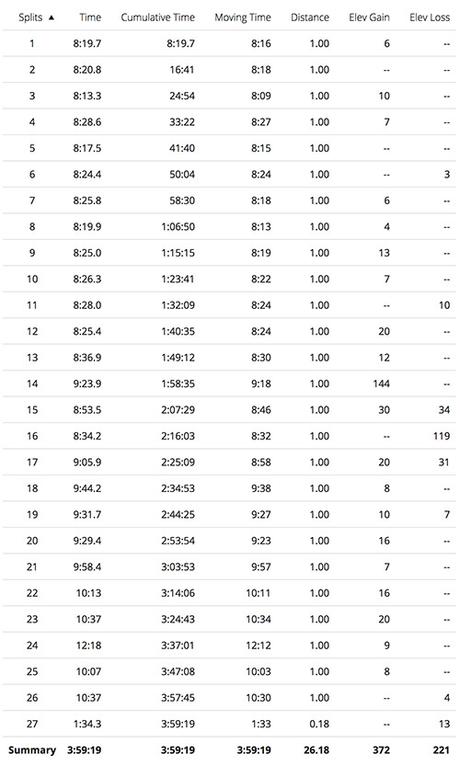 Advertisements