Run The Jewels is the much hyped product of a collaboration between lyrical kings Killer Mike and El-P. We've been hearing some tracks over the last few months, but the finished album – available as a free download on the Fool's Gold website – is a concise collection of aggressive odes to mayhem and conceptual violence. Both Killer Mike and El-P are on nonstop attach for Run The Jewels, and each produce some of the slickest bits of lyrical body horror you've heard since Dr. Octagonacologist. Run The Jewels is a shart breath of fresh air, and a more immediately enjoyable blend of lyrical wizardry with hard, crunchy beats than last month's Yeezus.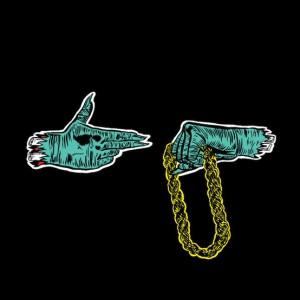 Killer Mike and El-P are comparably equipped vocalists, and have a dueling, or even dancing, style of rapping off of one another. On tracks like "36" Chain" and "No Come Down" the duo make eviscerating your enemies sound like something that can only be done with your best buddy at your side. In a lot of ways, Run The Jewels seems to be a vague fantasy of ironic, escapist violence with Mike and El at its center. Their mutually benevolent comraderie is at the heart of tracks like "DDFH" and "Get It," and each seems content to just spit off of the other; which is great, because I am more than content to listen to nothing else.
The album's almost relentless pattern of attack attack attack doesn't necessarily get weary, but it makes Run The Jewels something of a special occasion. This is an album with great tonal depth, but not a lot of tonal diversity, and so it probably isn't meant for all-weather listening. But Run The Jewels is an album that no true hip-hop connoisseur cannot afford not to listen to; it manages to be breathtakingly poetic and absurdly comedic without ever letting you believe for one second that either Mike or El have truly lost their grip on reality. A short, powerful album whose hyperactively catchy beats and hook-saturated lyrics beg multiple replays, multiple sequels.

4/5 bars