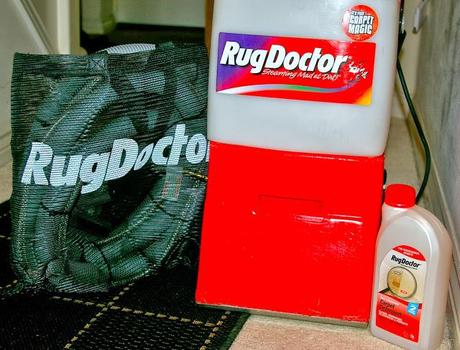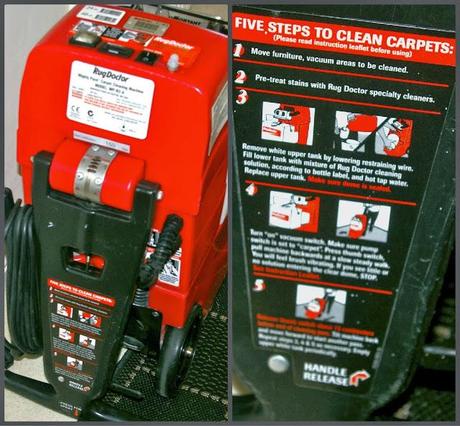 When I was asked if I'd like to review the rug doctor, I jumped at the chance. You see, we have had cream carpets throughout the whole house, bathrooms and all! Needless to say with around 18 months of us living here and my addictions to coffee & fake tan, they were not cream anymore! No matter how careful we tried to be or how much stain remover I got through, they would never go back to what they were, in the end, I did kind of give up!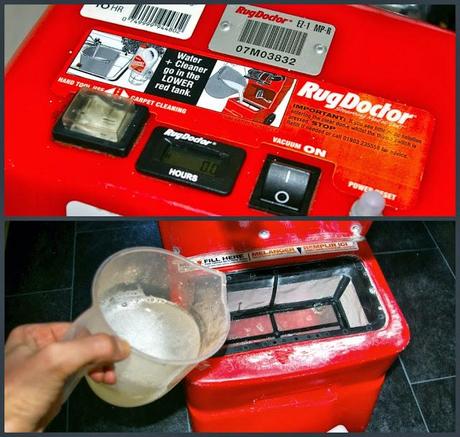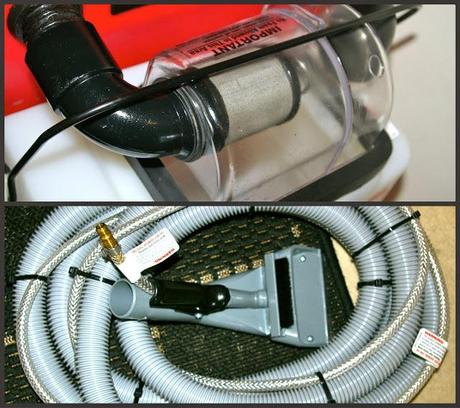 I will admit, it stayed in it's box for a couple of days as on first glances it looked hard to use and a bit daunting! I finally took the plunge after realising the carpets were not going to clean them selves, if only hey?! When I actually read the instructions without a baby attached to my ankles, it wasn't scary or hard to use. In fact, it was pretty damn simple and I couldn't wait to get started. The only thing you have to remember is to fill the red tank not the white one, and ensure the dome is secure with the bar. This is much more understandable when using it!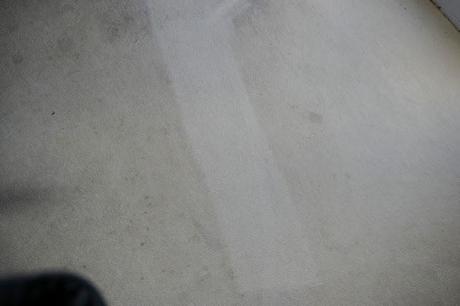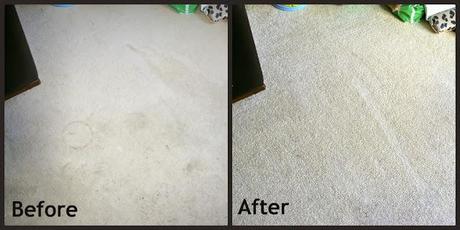 I was nervous to do my first streak but once I saw the difference, it gave me that satisfying feeling and I was excited to see the finished result. It did take quite a while to do the whole room as I only did about 3/4 streaks before I had to empty and refill the tanks! I was getting quite annoyed at the time but to be honest, it's not every day you do it and the results are so worth it! You can see from the photos above the difference it made. My coffee stains vanished right before my eyes and gave the carpet a generally more clean and less gray look overall. Some of the stains didn't come out but I think I should have pre-treated them as they were pretty old, dried in stains. It did leave the carpet quite wet however with the heating on it dried out completely and pretty quickly!
Overall, I am very impressed with the Rug Doctor and I will definitely be hiring one a couple of times a year (or more!) when I feel the carpets are getting a bit grubby again! If you have the same problem with carpet as I do, I really recommend trying the Rug Doctor! 


Have you tried the Rug Doctor




*We were loaned this item to review on my blog but all opinions are honest & my own.




This month's advertiser is 

Legally Glam.

 To be next month's 

click here

 for more info.