10/05/2011 – by Cynthia Wright
Colorado Springs talk radio host Jimmy Lakey recently revealed to his listeners that during one of his visits to a cigar club, he calmly heard one of the customers comparing First Lady Michelle Obama to Star Wars favorite sidekick Chewbacca.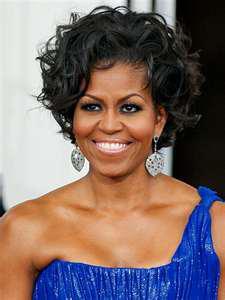 FLOTUS
Of course, radio being radio – he wasted no time in sharing this with his audience.
"At the cigar club, someone used the phrase Chewbacca, and everyone knew or assumed who this person was talking about.  I've tested it. I've done group testing, and I've said, if I say Chewbacca, what do you think?  And, I'm telling you, I'm in so much trouble right now," Lakey stated between laughs.
Later on during the show, the radio host claimed to receive a Facebook message from someone claiming to be the man who originally made the comment. Of course, the listener was unapologetic even admitting that he pulled his kids out of school to take them to a Tea Party rally (surely he's in the running for Father of the Year).
Adding insult to injury, while Lakey even admitted that he found the Chewbacca comparison "crass, yet amusing," seeming to want another opinion, he decided to show his wife pictures of FLOTUS.
While his wife didn't understand the Star Wars comparison, she instead replied that the First Lady resembled a halfback more than anything else.
Lakey replied to his wife, "What's the difference between you saying she looks like a halfback and someone else saying the name Chewbacca? I don't get the difference."
I hope that he gets how big of a douchebag he really is.